Jinri Toutiao looks to BRICS nations
Jinri Toutiao, a leading news aggregator app, has trained sights on the BRICS economies to extend its artificial intelligence-backed business as more people embrace mobile gadgets to receive information and consume content, a company executive said.
Russia is probably the next destination for Toutiao to branch out overseas, after it reaped initial successes in India and Brazil, said Liu Zhen, senior vice-president of its parent company Beijing Bytedance Technology Co Ltd.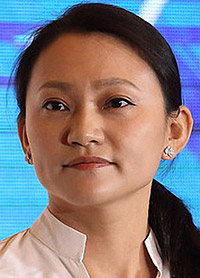 Liu Zhen, senior vice-president of Beijing Bytedance Technology Co Ltd. [Photo provided to China Daily]
"We are set to benefit from the ongoing wave of smartphone penetration and growth of the internet infrastructure in these countries," Liu said. "We can expand via acquisitions or by building up our own products."
The app, which translates into "Today's Headlines", uses algorithms to scour a massive number of sources to filter news and tailor feeds. It comes as traditional news portals lose their luster in the mobile age and traditional media fails to attract news-hungry users who want to stay up-to-date and relevant.
Last year the five-year-old startup bought a stake in Indian news aggregator Dailyhunt, and introduced the local version of TopBuzz, the company's English-language news service, in Brazil.
In terms of which path it will take in Russia, Liu said it really depends on whether it can find the right local partner, the one thing to factor in for cross-cultural communication businesses.
Toutiao is also active in reaching out to mature markets, buying US video app Flipagram in February. The case was overseen by Liu, a veteran lawyer and Uber Technologies Inc's former China strategy chief before joining Toutiao's senior management late last year.
Aside from emerging markets, "Japan, South Korea, Western Europe and most of the English-speaking countries are on the top priority of our expansive roadmap," she said.
Toutiao is the most frequently downloaded news product in China's iOS App Store, according to market research firm App Annie. The service has garnered 120 million daily active users, who spend an average of around 70 minutes a day on Toutiao.
One major challenge is to identify and customize products that resonate with local people's interests. For instance, Indian audiences are mostly drawn by music, dance and cricket-related feeds, which is a far cry from the preferences of Toutiao's domestic users, Liu noted.
And because Toutiao doesn't have its own staff writers, finding the initial group of curators becomes critical to building enough sets of the data it relies on to expand its user base.
The app aggregates content not just from traditional news outlets, but also video, live streaming, social media and a growing army of individual contributors, which form the backbone of its $11 billion business, according to estimates from CB Insights.
Liu said with the advent of machine learning, AI can broaden people's horizons by recommending topics of potential interest that go beyond their conventional reading scope.