Virtual currency offerings banned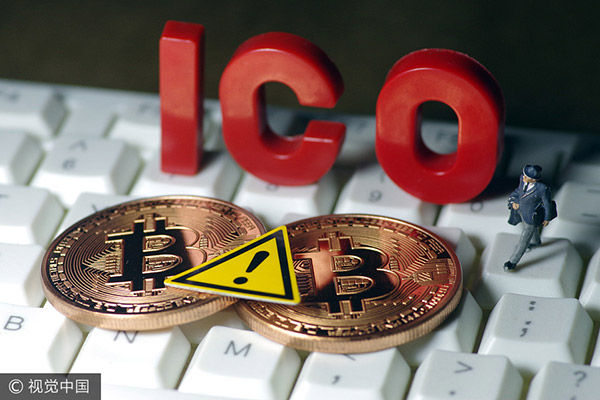 [Photo/VCG]
Initial coin offerings, raising funds through the launch of token-based virtual currencies, have been banned in China, according to an announcement made by several authorities on Monday.
Analysts said that authorities move to ban ICOs is not surprising given that ICOs, with strong liquidity and great risk exposure, have little positive influence on and relevance to the real economy, and it may be the start of further strengthened regulation over crypto-coin trading in the market.
Through ICOs, fundraisers have created and sold new crypto tokens, such as Ethereum and Litecoin, or Bitcoin's virtual currency peer, to investors.
The announcement said that ICOs are unauthorized, unlawful fundraising that have allegedly engaged in illegal activities such as the illicit issuance of bills, financial fraud and pyramid schemes.
"ICOs have seriously disrupted financial and economic order", said the announcement by the central bank, the banking regulator, the securities regulator, and a number of other regulators.
All kinds of initial coin offerings should be stopped immediately and those organizations and individuals who have already completed ICOs should offer refunds, protect investors' rights and handle risks properly.
ICOs have raised about 2.616 billion yuan ($399.5 million) in total in China with more than 105,000 investors in the first half of 2017.
The size of the funds raised through ICOs has surpassed that of conventional venture capital channels, said a research note by an expert committee on internet financial security and safety technologies in July.
"In terms of liquidity, regulation and investors' protection, ICOs are obviously different from conventional legal fundraising channels", said Yan Yuemin, an analyst with Industrial Securities, in a research note.
Fundraising through offering crypto-coins are easily exposed to risks due to ICOs' lack of transparency, ease of cross-border transactions, lack of regulation, a low threshold for fundraisers, and not being not asset-backed in any form, said a research note by Industrial Securities.
The price of crypto-coins fell sharply after the ban, with Bitcoin's price falling around 12 percent to $4,018 on Tuesday, and Ethereum's price declining some 32 percent to $232, according to virtual coin trading platform btctrade.com.
"Tighter regulations are likely to be launched in the near future as regulators are already seeking opinions from market players and have arranged talks with platforms," said an executive technology officer with one of the major virtual coin trading platforms in China who declined to disclose his employer's name.