State Grid becomes power in the land in Brazil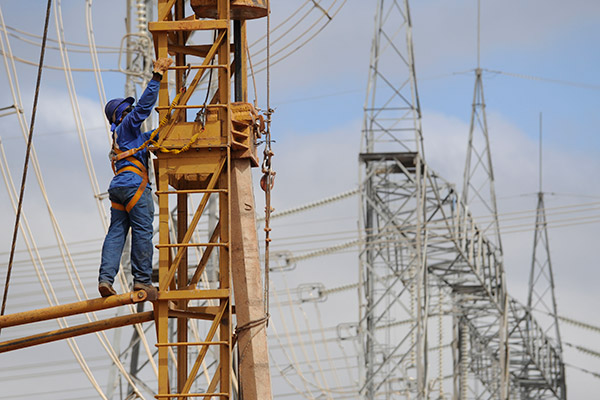 A worker of State Grid Corp of China checks facilities at a transformer substation in Brazil. [Photo/Xinhua]
State Grid Corp of China has become the largest power generation and distribution company in Brazil, its chairman Shu Yinbiao said on Monday.
The world's largest utility company and the second largest in the Fortune Global 500 has invested more than $20.9 billion in Brazil so far, a figure which is expected to double in the next three years, he said.
According to Shu, Brazil, which is working on transmitting electricity from hydropower stations in the Amazon region in the north to areas with huge demand such as the southern states of Sao Paulo and Rio de Janeiro, has a lot in common with China, as both have a vast territory with energy consumption centers far from the resources.
But Shu pointed out that China's ultra-high voltage projects have proved that technology can be applied to enhance the efficiency of large-scale and long-distance transmission.
China built its first UHV trans-mission line in 2007, aiming to ease energy pressure on the country's commercial center Shanghai and Xiangjiaba, a remote city in southwestern China along the Yangtze River.
The company introduced two transmission projects to Brazil using China's ultra-high voltage power transmission technology in 2013, which can transmit a large capacity of electricity over long distances with low losses.
Joseph Jacobelli, a senior analyst of Asia utilities at Bloomberg Intelligence, said China's UHV projects can help ease Brazil's challenges of long distances between the supplier and the customer.
"State Grid has steadily sought overseas assets, including Brazil, in recent years and this trend should continue," he said.
"The nation is keen to have Chinese investments and SGCC has gained much experience in the country which it entered in 2010. It's believed the company will seek more greenfield and operational assets."
In addition to Brazil, Shu said the company is also planning to become the dominant force in the electricity industries in other BRICS members.
As the world's two major energy consumers and producers, State Grid imports more than four billion kWh of electricity from Russia every year, while distributed power generation and solar power construction is also being carried out in South Africa, he said.
"The connection of infrastructure enables resource sharing and is a key aspect of BRICS members' cooperation."
The company overseas energy infrastructure investment now exceeds $35 billion, and it has key energy assets in seven countries and regions.