China expects full-year trade growth amid strong BRICS partnership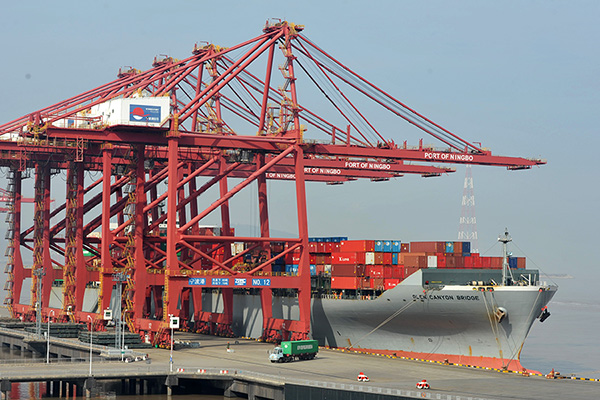 A container ship docks at the Port of Ningbo, East China's Zhejiang province. [Photo/Xinhua]
BEIJING - China's foreign trade is likely to swing back to full-year growth in 2017 on back of strong first-half momentum and strengthened cooperation with trade partners.
Analysts believe a recovery in global demand and the upcoming BRICS summit will inject a boost to trade growth for the rest of the year.
China's foreign trade in the first seven months totaled 15.46 trillion yuan, up 18.5 percent year on year. The economy saw a 7 percent dip in foreign trade volume in 2015 and a 0.9 percent decline in 2016, due to sluggish overseas demand.
In the first seven months, exports increased 14.4 percent year on year, while imports rose 24 percent, resulting in a 14.5 percent decline in the trade surplus.
"As most of the world's major economies started to recover this year, clearly trade demand is improving," said Lian Ping, chief economist with the Bank of Communications.
In its flagship Global Economic Prospects report in June, the World Bank said it expected a recovery in global trade growth to 4 percent in 2017 after a post-crisis low of 2.5 percent last year.
Trade activities with its BRICS partners have particularly supported China's trade growth this year, as cooperation between the five developing countries are expanding at a strong pace.
Leaders of the five economies (Brazil, Russia, India, China and South Africa), which contributed more than half of global growth in 2016, will meet in China early next month for the 9th BRICS Summit.
Bai Guangyu, an expert with the Ministry of Commerce on foreign trade, said China's ongoing economic structural improvement had provided room for further trade and investment cooperation between BRICS members.
From January to July this year, China's trade volume with Brazil, Russia, India and South Africa jumped more than 20 percent year on year.
In Fujian, the southeastern Chinese province that will host the upcoming BRICS summit in a few weeks, trade with BRICS countries soared 67.7 percent to 49.42 billion yuan ($7.42 billion) in the first half.
At a meeting in Shanghai earlier this month, BRICS trade ministers reached agreement on a number of issues, including e-commerce cooperation, service trade plans, the need for policy transparency and improved efficiency.
South African Minister of Trade and Industry Rob Davies said he was impressed by the decision to enhance e-commerce cooperation and hoped that Chinese consumers could enjoy more special products from his country, such as grapefruit and red wine.
Thanks to ever-growing e-commerce cooperation and imports expansion, products from BRICS countries, such as Brazilian pine nuts, Russian candy and Indian handcrafts, are now only one click away for Chinese consumers.
BRICS trade officials also expressed interest in the China International Import Expo, an event that will start 2018 and increase foreign imports to China.
Looking ahead, despite uncertainties such as the growing protectionism that could pare trade growth for the rest of this year, economists are confident in the full-year picture.
With extensive trade cooperation with BRICS members and stable global economic growth, the recovering trend in China's foreign trade is likely to continue into the second half, and performance for the entire-year will be in much better condition than the previous two years, according to Bai.