Malls must evolve to attract business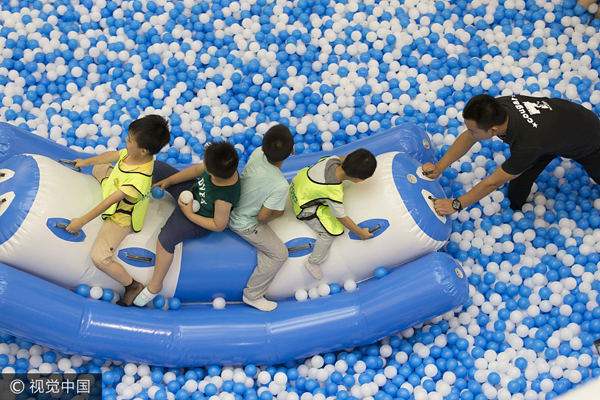 Children play at a shopping mall in Nanjing, Jiangsu province, July 9, 2017. [Photo/VCG]
Addition of rented office space, events for children, dating among suggestions
The traditional retail industry is facing new challenges due to the impact of online shopping and changing consumer behavior, and malls are upgrading their business models through various kinds of innovations.
Industry analysts said with large amounts of space available inside shopping malls, malls could add more types of business operations, such as holding parties, and providing areas for business negotiations and dating, to strengthen their social functions.
Neil Wang, China regional president of market research agency Frost & Sullivan, said shopping malls may launch more functions such as marriage registration, metro card recharging, events rooms for the elderly, and psychological consulting centers.
"By adding these inside the malls, they could efficiently utilize the fragmented time of consumers, and maximize the economic and social benefits of malls."
CapitaLand, one of Asia's largest real estate companies, plans to introduce Beijing-based shared-workspace startup UR Work, a rival of WeWork, into its malls.
So far, CapitaLand has introduced such working spaces into its mall in the Wangjing area in Beijing, and it said experience and innovation remains the focus of brick-and-mortar business.
"Introducing co-work spaces into shopping malls helps them become more open and flexible. It will better meet the needs of the new generation of consumers," said Wong Car Wha, general manager of North China CapitaLand Mall Asia.
Meanwhile, some Capita-Land malls are diversifying their business aimed at children to attract more adult customers, as the performance of child-related business, such as early childhood activities, English classes, children's playgrounds, and handmade pottery, has been strong compared to the generally weak sales of physical stores.
Guided by the demand of surrounding communities, those malls have expanded their child-related business to cover fashion, education, recreation and parenthood for children, and they cover age groups ranging from babies to teenagers.
"Our malls located around neighborhoods and families have about 15 percent of child-related business, and it accounts for under 10 percent of business in malls near office buildings," Wong said.
"We will keep upgrading and adjusting child-related business formats based on changes in consumer groups, consumption upgrade trends and national policies. For instance, we introduced some exclusive children's entertainment into malls and strengthened customer loyalty."
Following China's new policy that encourages married couples to have two children, malls are bullish on the long-term growth prospects for child-related business.
With more parents arranging their weekend activities for their kids at malls, frequent spending on children events has driven more attention to food, beverage and clothing from adults.
A large number of shopping malls in Beijing, such as Solana, Joy City Chaoyang, and Beijing Hualian Group, are expanding their child-related business to boost customer flows and sales growth.
Angela Qiu, a mother of a 2-year-old son in Beijing, said she sometimes brought her son to the nearby shopping mall to buy toys and children's books, and often her son may want to play at the mini playground at the mall.
"I will be able to relax myself and conveniently do some clothes shopping if my son is happily playing or taking some lessons, and I won't worry about his safety," she said.
In the past five years, the proportion of child-related business at malls has increased to 15 percent from 5 percent, and the growth has been particularly remarkable during the past two years, according to research by real estate services provider RET.