China's rural folk ride the $3b app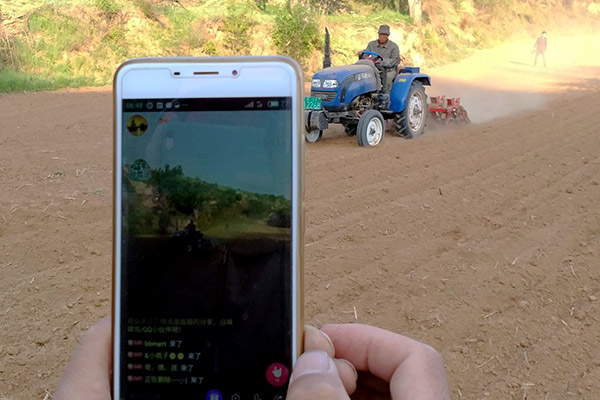 A farmer uses mobile phone to do live streaming, Wuxiang county, Shanxi province, May 18, 2017. [Photo/Xinhua]
Kuaishou, a Chinese video sharing and live streaming app, has become popular among China's rural population as it brings them closer by allowing them to record and share their lives.
What makes Kuaishou distinct is its focus on ordinary people, not glamorous celebrities and stars who abound on mainstream short video and live streaming apps.
"The number of daily active users of Kuaishou has surpassed 40 million, creating millions of short videos via the UGC (user generated content) method," said Su Hua, its founder and CEO.
The next goal is to encourage rural folk to record and share lighter-vein videos.
For any social networking app, the key is daily active users. Considering the success of Instagram, Su believes there is still great potential for growing the number of daily active users of Kuaishou.
The APP is popular even in urban centers. Daily active users in first-tier cities such as Beijing, Shanghai, Guangzhou and Shenzhen number 10 million.
Stated differently, 30 million users, or more than 70 percent of users, come from outside first-tier cities.
And 87 percent of Kuaishou's users are from the post-'90s generation or the so-called millennials. "We are devoted to recording the daily life of ordinary people, giving them a stage to express themselves," said Su, adding the app aims to improve the user experience and attract more new users.
The app would recommend personalized content to users based on their browsing history and preferences with the help of artificial intelligence technology and a sophisticated algorithm. "We also pay attention to data confidentiality and user security," Su said.
Kuaishou was established over six years ago. The company is now exploring ways of monetizing its assets (user traffic). It believes online virtual tools, gifts, video advertisements, e-commerce, games and other value-added services could prove money-spinners.
Su said Kuaishou's ultimate goal, however, is not to commercialize the platform totally. "However, excellent commercialization programs will make us strengthen team building, hire more talent, and optimize our products."
In March, Kuaishou received 350 million yuan ($1.1 million) in financing. The funding round was led by Chinese internet giant Tencent Holdings Ltd. Last year, it received funding from internet search giant Baidu Inc and Sequoia Capital. Their investments valued Kuaishou at over $3 billion.
Apart from Kuaishou, the Su-led startup also provides two video-related apps, focusing on live broadcast assistance and short video, editing features.
Given its large number of short videos, Kuaishou feels the pressure to review all that content, to ensure it is safe, decent and compliant with existing regulations.
"As a video-sharing platform, we need to check the contents of uploaded videos in accordance with the national regulations, before recommending them to users," Su said.
"The pressure of manual review is huge. We have spent three years establishing our review system. The professional review team comes from television channels with rich work experience. We'll strengthen the monitoring of live-streaming content, and deal with users who disseminate inappropriate content, including pornography," said Su.
Zhuang Qiange contributed to the story.