Investors pour into London market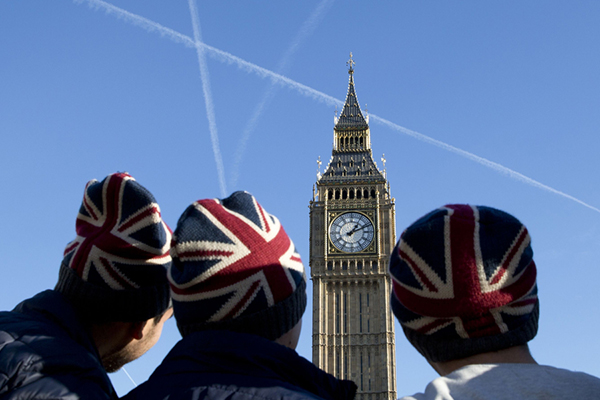 Visitors at the Elizabeth Tower, better known as the Big Ben in London. [Photo/VCG]
Chinese investment is pouring into London's commercial property at an unprecedented rate, according to realtor CBRE, which said there was 2.72 billion pounds ($3.52 billion) of investment in the first quarter of 2017, a sixfold increase year-on-year.
Flagship deals, such as CC Land's purchase in March of London's Leadenhall Building for 1.15 billion pounds, boosted the figures. Smaller deals of 100 million pounds and more also grew in number. Guangzhou's R&F Properties bought Vauxhall Square in April for 158 million pounds, and China Estates purchased 11-12 St James's Square for 175 million pounds.
Chris Brett, CBRE's head of international capital markets, said deals in the pipeline involving Chinese investors, especially those in Hong Kong, were "at an all-time high" .
"The appetite is very strong at present," he said. "Currency changes have played a huge part in this demand."
Since the referendum in June in which British voters chose to leave the European Union, the pound has lost value against the renminbi. At its weakest in October it was down by around 20 percent. Recent depreciation of the Chinese yuan against the US dollar made the UK even more attractive.
Some analysts wondered if CC Land had paid too much for the Leadenhall Building but Eric Pang, head of the China desk at estate agent JLL, said the way in which it is managed will determine its value.
The ability to maintain good relations with anchoring tenants and financiers is crucial, Pang said. Chinese investors can generate returns ranging from 4 percent to the mid-teens from the commercial sector.
Meanwhile, profit margins look good on commercial investments made earlier. Beijing-based property developer ABP, which pledged to invest 1.7 billion pounds on developing a multi-use block near London's City Airport, expects it to generate 3.2 billion pounds, according to chairman Xu Weiping. And Reignwood, another Beijing developer, has invested 500 million pounds since 2010 on turning Ten Trinity Square into a hotel, private-members club and residential block. Ni Songhua, president of Reignwood Investments UK, expects the hotel to pass its breakeven point next year.
Brexit uncertainties are continuing, but the fear of massive job losses to continental Europe has not yet been realized. Meanwhile, Deutsche Bank's announcement in March that it had taken out a 25-year lease on its London headquarters, where 7,000 people work, sent a reassuring signal to the commercial property market.
But Pang cautioned that Chinese investors are likely to face competition in future deals, compared with the months after the Brexit vote.