Bank of China joins Britain's electronic same-day payment system CHAPS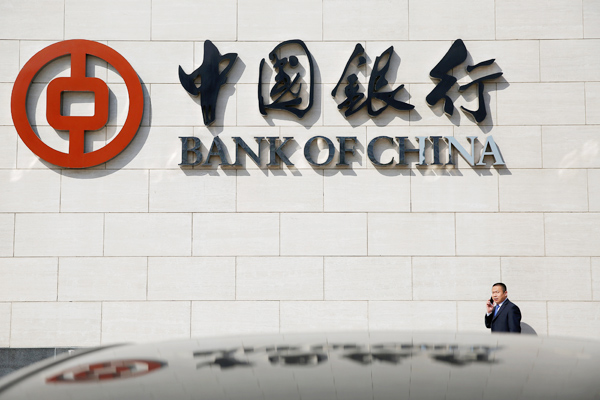 A man speaks on the phone outside the Bank of China head office building in Beijing, China, March 30, 2016. [Photo/VCG]
LONDON - Bank of China has joined CHAPS Clearing Company Limited, Britain's electronic same day payment system as a shareholder and direct participant with immediate effect, CHAPS Clearing Company announced on Thursday.
Bank of China (BOC) is the first Asian-headquartered direct participant in CHAPS (the Clearing House Automated Payment System)), which brings the total number of CHAPS direct participant to 25.
Sun Yu, general manager of Bank of China Limited London branch, said: "After joining CHAPS, we have completed another vital step towards the internationalization of our direct clearing network, now covering the world's major currencies. Our customers will benefit from the more efficient, secure and flexible payment and settlement services provided by Bank of China Limited."
Tim Fitzpatrick, chief executive of CHAPS Co, said: "Bank of China Limited is a leader in banking and financial services with an international presence in over 50 countries, and their participation in CHAPS further extends the accessibility of our service around the globe."
"Our expanding base of Direct Participants is a testament to the world-class offering we provide. We are looking forward to working with Bank of China Limited to enhance CHAPS for the benefits of all our users," he added.
CHAPS is the British electronic payment system that guarantees same day settlement finality for high-value payments. It is at the heart of the British payments and financial infrastructure. The system continues to be one of the largest Real-Time Gross Settlement (RTGS) systems in the world, offering efficient, risk-free and irrevocable same day payments to meet the sterling RTGS payment requirements of its Direct Participants.
Bank of China Limited is the most internationalized and diversified bank in China. Established in 1912, it has been satisfying the financial requirements of its clients in Britain for nearly 90 years with a comprehensive range of financial services.