Bank of China to help build SXU smart campus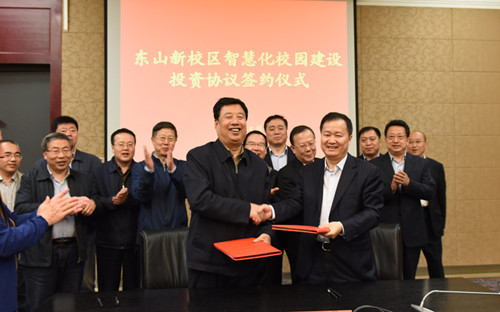 A cooperation agreement is signed between Shanxi University and the Shanxi branch of Bank of China on May 5. [Photo/sxu.edu.cn]
The Shanxi branch of Bank of China will partner with Shanxi University (SXU) to develop the university's new Dongshan campus into a smart campus, according to an agreement signed on May 5.
Jia Suotang, president of Shanxi University, expressed his hopes at the signing that the two sides can further their mutually beneficial partnership through jointly constructing the smart campus.
Liu Xuwei, president of the Shanxi branch of Bank of China, echoed Jia saying that the bank will provide financial support to advance the university's smart campus project.
Confucius Institutes

The Confucius Institutes are set up worldwide by the Chinese Language Council International to promote Chinese language and culture.

Enrollment of Foreign Students in Shanxi University

Join us and explore our wide range of study programs and enjoy a first class educational experience that makes you a part of a lively global community.