Coal behemoths on the horizon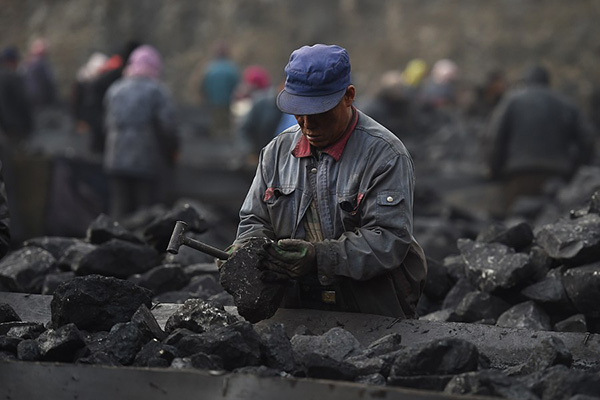 In this photo taken on November 20, 2015, a worker sorts coal on a conveyer belt, near a coal mine at Datong, in China's northern Shanxi province. [Photo/VCG]
China plans to create about 10 mega coal companies by 2020 through mergers and reorganizations, as part of its long-standing efforts to cut overcapacity, said a top official of the National Energy Administration.
Wang Xiaolin, deputy director of the NEA, said the country is preparing guidelines to overhaul the bloated sector, and aims to create several new behemoths with annual capacity of 100 million metric tons by 2020.
There were six producers in the country reaching such capacity last year, said Zhang Hong, deputy secretary-general of the China National Coal Association.
The plan is part of the government's effort to promote industrial upgrading and concentration. Last year, it set a target of reducing the number of coal producers by almost half to 3,000, with collieries with an output capacity of 50 million tons generating 60 percent of industry output.
In addition to the 10 or so mega miners, China also set two-year objectives for regional development, Wang said.
Within two years, four regions-Shanxi and Shaanxi provinces, and the Ningxia Hui and the Inner Mongolia autonomous regions-are to merge and reorganize their coal mines whose annual capacity is between 300,000 tons and 600,000 tons, Wang said.
Another 11 provinces and regions, including Hebei, Liaoning and Jilin, should do the same with their coal mines with output capacity ranging from 150,000 tons to 300,000 tons.
Zhang Min, a coal industry analyst at Beijing-based JLC Network Technology Co Ltd, a commodity information provider, said coal prices started to soar in July after nearly four years of declines.
Zhang said coal prices are projected to remain stable this year, although she foresaw a low point in April.
As the world's largest coal producer and consumer, China has been accelerating the pace of slashing excess capacity. It seeks to cut capacity by at least 150 million tons in 2017, according to the National Development and Reform Commission.
The target was built on the progress the country made last year, when it cut 290 million tons of excess capacity in the coal industry.