Home renting expands, but problems arise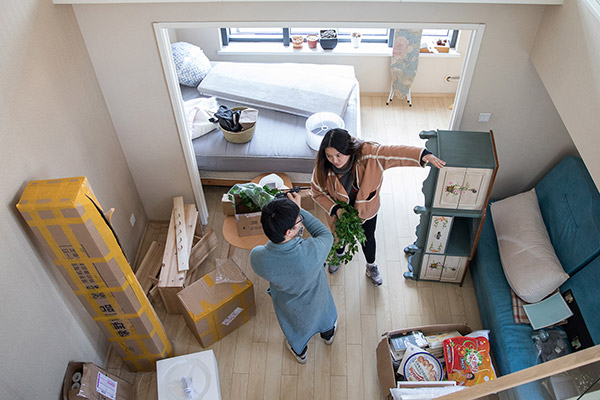 A couple in Hangzhou, Zhejiang province, revamp and decorate their home for renting it out to tenants via home-sharing platforms. [Photo provided to China Daily]
Experts urge stricter regulation, and call for standards, vetting of players
BEIJING-Chang Linglong has just returned from a trip to Shanghai that she describes as "a nightmare". The 160-square-meter apartment she booked on a short-term rental website turned out to be just 70 square meters. And instead of the "quiet, exquisite" house as described, she found it right on a busy street, and the noise kept her up all night.
"The promised coffeemaker and hair dryer were also nowhere to be found," she recalled.
And then, she asked: "Isn't it a kind of fraud?"
Yang Li had an even worse time.
Landing at midnight in the southern city of Shenzhen, she and her friend were more than surprised to find they had nowhere to stay. Their booking had been canceled without notice.
"The owner said the website where we placed the order was temporarily unavailable, so it was rented out on another platform," Yang said.
She called the four service hotlines listed on the website. Three were nonexistent, and the other gave no convincing explanation but merely confirmed that her booking was invalid.
Sharing is increasingly popular in China, with young people the biggest fans. Looking for more flexible and cost-effective travel experiences, people love online home sharing.
Airbnb opened in China in 2012 and more than 2 million Chinese have used the service overseas. Domestic competitors quickly opened their doors and now over 800,000 properties are up for rent on Tujia, Mayi and Xiaozhu.
A February report by online consulting firm iResearch calculated a market turnover of 8.8 billion yuan ($1.3 billion) last year, and that is expected to grow by around 50 percent this year.
Last year, Airbnb's total Chinese guests jumped 146 percent while listings in China more than doubled to about 80,000. Sensing a potential spike in future demand, it is doubling investment in China and tripling its local workforce, and even taking a new Chinese name, Aibiying, which means "welcome each other with love", Bloomberg reported.
It plans to offer customers in Shanghai its fledgling Airbnb Trips service-a menu of options that can include concert tickets and restaurant reservations. It'll begin to market "experiences"-a feature that lets people book local excursions, Brian Chesky, its CEO, told Bloomberg.
To be sure, that is not the only kind of experiences travelers are seeking.
A plethora of problems have emerged and it is not just the horror stories of dissatisfied travelers that are causing concern.
Someone in East China's Zhejiang province lost 60,000 yuan worth of camera equipment, while a renter in Tianjin found his sofa and mattress ripped up by the tenant's two dogs. Neither got any compensation.
An Jinming from the Beijing tourism commission said complaints about sharing were 20 percent higher than for traditional accommodation, perhaps due to a lack of unified standards and regulation.
Short-term rentals mostly involve private homes. Landlords can list their homes simply by providing an ID card, ownership certificate or lease contract and a few pictures. Checking the authenticity of this material is not a high priority for the websites.
A Mr. Hong "shares" two private houses in the tourist city of Lijiang in Southwest China's Yunnan province.
"It is easy to list on these websites. The pictures I posted have been deliberately edited and sometimes 'beautiful' pictures I upload are 'stolen' from other listings," Hong admitted.
With so many houses registered each day, the website owners claim it is impossible to check the quality of all the properties and owners.
"We only check the information submitted by landlords. We set no requirements for tenants," staff at a short-term renting website told Xinhua.
The picture is somewhat different overseas. Beijing resident Chen Yi, a firm advocate of online home sharing, said that on most foreign platforms both renters and tenants undergo complicated authentication processes before using the service. After any stay, they review each other and get credits accordingly. Any misbehavior such as mess and noise may lead to a deduction in credits and these credits are an important reference.
"Scores are given based on these assessments. The more transparent the process, the more secure we feel," said Chen.
According to Li Jinglong, head of the tourism department in Anhui University, China's credit system in the short-term rental market should be connected with banks, the police and third-party payments in the name of better regulation.
Regulation of short-term rental services needs to include such areas as fire safety and the architectural quality of the building.
"The supervision lags far behind development, especially since professional renters and small startups joined in," said Liang Shanying, an official at a tourism supervision department in central China. He added: "It is hard for us to get a clear picture of the total number of short-term properties or renters."
There should be legislation as soon as possible and a multi-layer credit-rating system to help the development of the industry, said Liang.
XINHUA-BLOOMBERG