Chinese companies post triple-digit growth in UK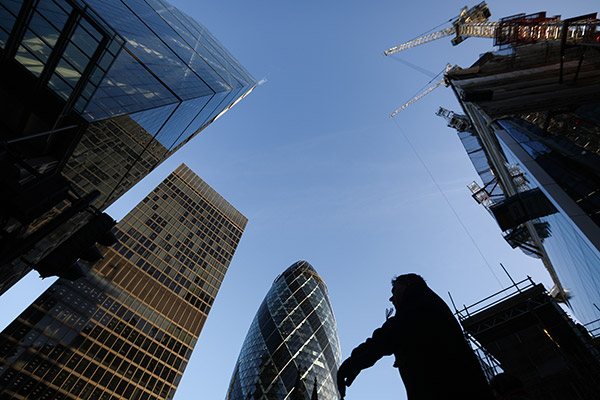 A pedestrian walks past skyscrapers including, left to right, the Leadenhall building, also known as the Cheesegrater, the Aviva Tower, 30 St Mary Axe, also known as the Gherkin, and The Scalpel, in London. [Photo/Agencies]
Chinese-owned companies have recorded triple-digit growth in the past two years in United Kingdom, the Financial Times reported, citing research by Grant Thornton, a UK-based professional services firm.
Revenues of the top 30 companies, which had a combined turnover of 9.8 billion pounds ($11.94 billion) and employ about 20,000 people in the UK, expanded by an average 174 percent in 2015 against the previous year, according to the Grant Thornton data. The UK in 2015, the most recent full year for the company reports, registered a 2.2 percent GDP growth, said the newspaper.
The study marks the first time that revenues for a representative sample of Chinese-owned companies in the UK have been published, reported the Financial Times.
A total of 280 Chinese-owned companies with revenues over five million pounds are registered in the UK but only 153 of these had reported earnings for at least two consecutive years by October last year, said the paper.
The 153 Chinese-owned companies posted revenue increases on average of 20 percent against the previous year, according to Grant Thornton.
The United Kingdom has become a favored investment destination for Chinese companies in recent years.
Shenzhen-listed Lianhetech snapped up Fine Industries, a chemical manufacturer based near Middlesbrough, UK, from private equity firm NorthEdge Capital in February.
In January, Hong Kong-listed CC Land acquired One Kingdom Street in Paddington for 292 million pounds and confirmed in March that the company is in advanced discussions to buy 122 Leadenhall Street, the tallest building in City of London, for 1.02 billion pounds.
This year also marks the 45th anniversary of the establishment of ambassadorial-level diplomatic relations between China and Britain.
Foreign Minister Wang Yi said on the sidelines of the Group of Twenty (G20) foreign ministerial meeting held in the German city of Bonn on Feb 16 that Beijing would like to work with London to boost high-level exchanges and promote the value of the two-way ties in the "golden age".
His British counterpart Boris Johnson said Britain will jointly promote bilateral and global free trade to enhance stability and prosperity.