Appliance makers advised to harness price rises to fund change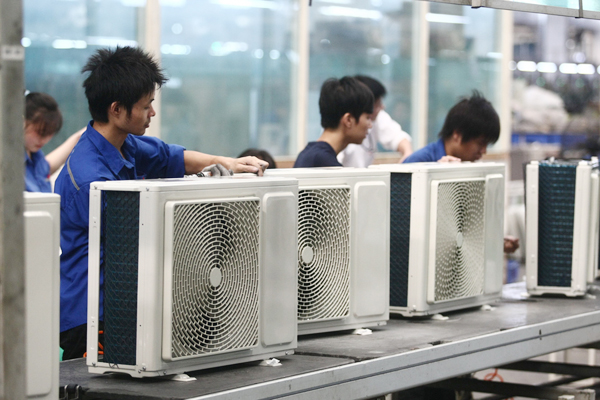 Workers on a production line of Guangdong Chigo Air Conditioning Co Ltd in Foshan, Guangdong province, Aug 8, 2013. [Photo/VCG]
Home appliance manufacturers should utilize the latest round of price increases for technological innovation and promote their shift toward high-end products, analysts said on Thursday.
The price increase of home appliances-from televisions to air conditioners, refrigerators and washing machines which started late last year-is still continuing, they added.
Xiaomi Corp announced last week it would raise the prices of its 48-inch and 55-inch HD televisions by 300 yuan ($43). In November, LeEco announced it would increase the prices of some TV sets by 100 yuan and some others by 300 yuan.
The prices of white goods, which include air conditioners and refrigerators, have also witnessed growth recently. Major home appliances maker Midea Group, Gree Electric Appliances Inc and Guangdong Chigo Air Conditioning Co Ltd upped the prices of their products by 50 yuan to 200 yuan.
Analysts said the reason behind the price hikes was the rise in the costs of raw materials. Data from the National Bureau of Statistics showed the prices of electrolytic copper and screw-thread steel both increased by up to 37 percent from October to January.
The price rise of raw materials had an effect on the home appliances industry, which pushed up the costs by 20 to 30 percent.
It is estimated that the prices of home appliances products in 2017 will be 10 to 20 percent higher than that in 2016.
"Companies should seize the opportunity to realize a transformation toward the high­end products and enhance their brands' premium capacity through technological innovation," said Zhang Yanbin, assistant director of All View Cloud.
Zhang added that the increase in prices was just temporary.
"At present, the supply of home appliances products still exceeds demand, which determines the price rise will not last for a long time."
Zuo Yanque, brand director of industry watcher China Market Monitor Co Ltd, said that major enterprises will not lose market share even if the price goes up.
"TV prices have increased by about 15 percent since the end of last year. Enterprises have adjusted the structure of their products, launching OLED TV, quantum dot TV, laser theater and other innovative products to expand their profit margin," Zuo said.
Jiang Feng, director of the China Household Electrical Appliance Association, said companies should actively adapt to the change, taking the consumption upgrade and optimization of product structures as their future development direction.