Regulation of bitcoin trading to be stepped up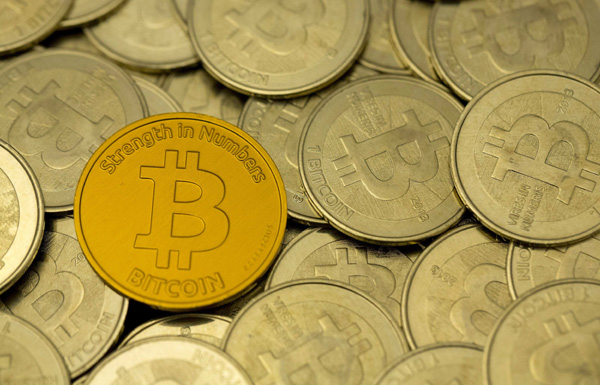 Some of Bitcoin enthusiast Mike Caldwell's coins are pictured at his office in this photo illustration in Sandy, US, on January 31, 2014. [Photo/Agencies]
China's financial market regulators are seeking opinions about how to better regulate trading of bitcoin, the virtual currency. These steps may include setting up a depository platform, said sources with close knowledge of the matter.
Authorities visited executives of a number of bitcoin trading platforms last week, and have inquired how the platform works when value of the virtual currency plunges and surges, a person at a Shanghai-based digital trading platform told China Daily.
Concerns focus on the transparency of trading, risks that bitcoin could be used as an illicit capital flow channel, and protection of traders' rights, such as stabilizing the system when the trading volume surges.
The value of bitcoin fluctuated more than 30 percent over the last three weeks, with a record-high of some 8,700 yuan ($1,257) on Jan 5 and a one-day loss of around 15 percent the next day.
"Sometimes platforms suspend trading when prices plunge. For investors, this could mean a significant loss if they cannot sell and withdraw immediately," said Ma Yuanchuan, a Shanghai-based bitcoin trader who invested some 20,000 yuan in the virtual currency.
China Securities Journal reported on Monday that investors said they could not get access to trading at huobi.com, a bitcoin trading platform when the price slumped significantly, citing an investor who claimed to have lost one million yuan due to the malfunction.
Huobi.com responded that the situation was caused by technical problem, according to the report.
The People's Bank of China Shanghai Head Office said last Friday that the authorities have been looking into bitcoin trading platforms and warned investors that the virtual currency is not and should not be regarded as a currency in circulation. And, investors should be highly aware of the risks of trading in bitcoin.
Brian Forde, senior lecturer on bitcoin and blockchains at MIT Sloan School of Management, said at a conference in Shanghai that China is at the heart of bitcoin mining and a lot of bitcoin trading activities happen in the country.
Forde said he does not recommend people without deep knowledge and understanding of the encrypted currency to use it as a tool to store value.