Home / Business / Biz Photos
A man's succulent plant business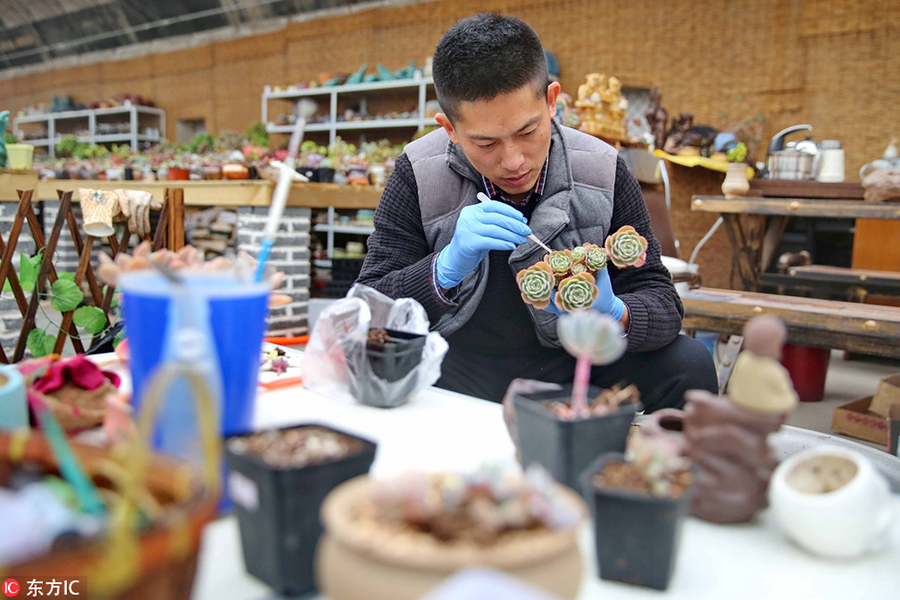 Xu Jian takes care of potted succulent plants in his greenhouse at Xuzhuang village in Qinhuangdao, Hebei province, Jan 5, 2017. [Photo/IC]
Xu Jian, a 31-year-old man from Hebei province, has an incredible talent for making succulent plants beautiful, and his business is flourishing like the sun at high noon.
Xu devoted himself heart and soul into his potted succulent plant landscape business in 2010 when he left the army and returned to his native village in Qinhuangdao. He used up all his savings – 120,000 yuan ($17,240) – to start his business by setting up a 600-square-meter greenhouse and importing more than 2,000 high-quality succulent plant varieties to breed.
Over the past six years, he has opened a brick-and-mortar store, an online store and a WeChat account to promote his products. Because of his constant innovation and hard work, his products have been well received by customers and sold to cities including Beijing and Shanghai.