Alibaba appeal: Global leaders make time for Jack Ma
Jack Ma, founder and executive chairman of e-commerce giant Alibaba Group Holding Ltd, has met with many foreign leaders in the past two years, especially after he rang the opening bell at the New York Stock Exchange on Sept 19, 2014.
Here's a look at some of the most powerful global leaders who have met with Ma.
Donald Trump, US President-Elect
Date: January 9, 2017
Place: New York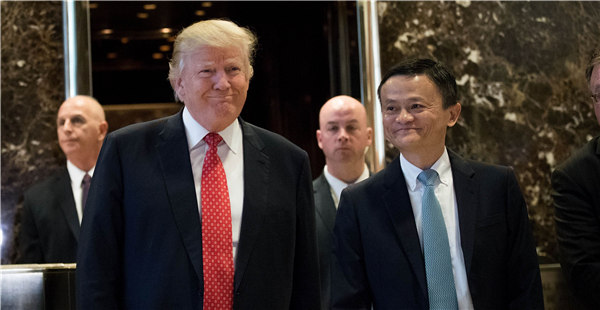 Jack Ma (right) met with US president-elect Donald Trump (left) on Jan 9, 2017. [Photo / Agencies]
Jack Ma and the United States president-elect Donald Trump met at Trump Tower in New York on Monday, for what Trump described as a "great meeting". Ma agreed, saying it was "very productive".
The two met with reporters briefly after the morning meeting, and said they discussed plans to create 1 million US jobs by allowing small and medium-sized businesses to sell to China through Alibaba's platforms.