Target is subordinate to economic reforms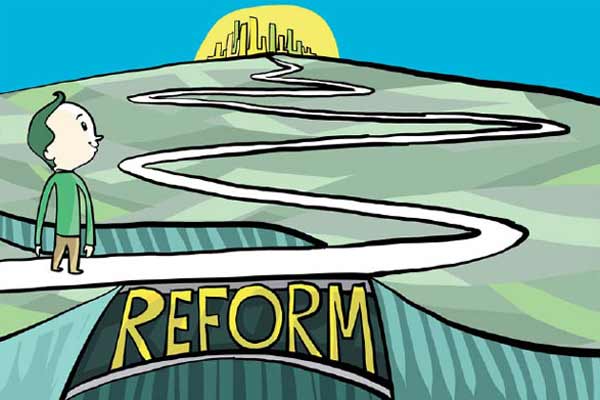 The Central Economic Work Conference put more emphasis on reducing financial risks, cutting overcapacity and preventing asset bubbles, rather than simply hitting a growth target. [Photo by Zhang Chengliang/China Daily]
China's top economic regulator pledged on Tuesday to set higher goals for cutting overcapacity this year while fending off financial risks.
The pledge comes as the nation works to achieve more healthy growth with less emphasis on a specific growth target.
The economic growth of the world's second-largest economy in 2016 is estimated at 6.7 percent, well within the 6.5 to 7 percent target range for last year, according to Xu Shaoshi, head of the National Development and Reform Commission.
The economic growth target for this year is to reflect expectations while not considered binding, according to Xu, as the nation focuses more on resolving key structural challenges.
His comments were in line with the tone set by the Central Economic Work Conference held in late December.
The conference put more emphasis on reducing financial risks, cutting overcapacity and preventing asset bubbles, rather than simply hitting a growth target.
The nation met this year's target of reducing 45 million tons of steel and 250 million tons of coal production capacity ahead of schedule.
But more progress should be achieved this year in excess production capacity reduction, and more pressure needs to be put on enterprises to achieve that goal, Xu said.
Rising commodity prices starting near the end of 2016 have posed challenges to capacity cuts, according to Zhang Lin, a senior analyst with dz18.com, an e-commerce site for the steel industry.
"It might lure loss-making producers that were previously shut down to restart their operations," Zhang said.
Soaring prices for coal, steel and other building materials have pulled up the producer price index, according to Yan Ling, an economist at China Merchants Securities Co.
Official data released on Tuesday showed the producer price index, which measures the prices of goods at the factory gate, surged by 5.5 percent in December year-on-year, growing at the fastest pace in more than five years.
Niu Li, an economist at the State Information Center, said an environment with less pressure to hit GDP numbers would leave room for China to tackle restructuring challenges.
"Many firms in sectors with overcapacity also are debt laden," he said.
"Whether the nation is able to see progress in reducing debt depends on whether provincial officials are willing to follow instructions from the central government, focus less on generating economic growth, and use market approaches to encourage firms to restructure their debts."