CRC on track for new management models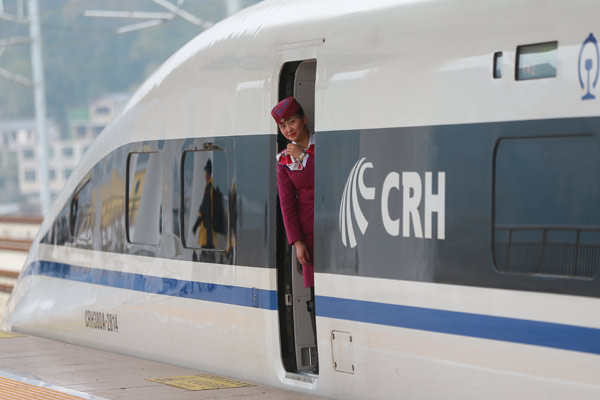 An attendant looks out a train station in Guanling, Guizhou province. Guanlin is one of the stations on the Shanghai-Kunming high-speed railway. [Photo by Zou Hong/China Daily]
China Railway Corp, the world's biggest railway operator by rail length, will carry out a mixed ownership reform this year to explore new management models featuring capital use rather than basic operation, a leading executive said.
Lu Dongfu, general manager of CRC, said the group will focus on eight main tasks. These include developing both high-speed and regular railways, establishing rail development funds and new companies to carry out rail-related businesses, and seeking the listing of its qualified assets on domestic stock markets.
"CRC will work with both private and State-owned companies to form joint ventures to support mixed ownership reform, and will accelerate the pace of asset-backed securitization and equity financing in the railway sector," Lu said.
All the efforts aim to meet China's goal to extend the length of domestic railway network, as well as win more railway projects in the global market. It is critical to deepen investment and financing reform for railway-related businesses, the Ministry of Transport said on Wednesday.
The railway sector has been selected as one of the seven pilot industries for mixed ownership reform of State-owned enterprises this year. Others include the power, energy, civil aviation, telecommunications and defense sectors, according to the National Development and Reform Commission, the nation's top economic regulator.
China's railway network reached 124,000 kilometers by the end of 2016, including more than 22,000 km of high-speed railways.
"The securitization of popular high-speed rail service lines between Beijing and Shanghai or Wuhan and Guangzhou has been talked about many times within CRC and related government branches, and they will be hot candidates to become listed companies once the reforms are deepened," said Wang Qing, a rail transportation researcher at the NDRC.
High-speed rail services between Shanghai and Beijing reported net profits of 6.58 billion yuan ($946 million) in 2015, while the majority of high-speed railway operators continued to struggle to make earnings, data from Beijing-Shanghai High-Speed Railway Co show.
CRC plans to offer more policy support to its local management branches, under the public-private partnership management model to develop land developing programs such as industrial and commercial real estate projects.