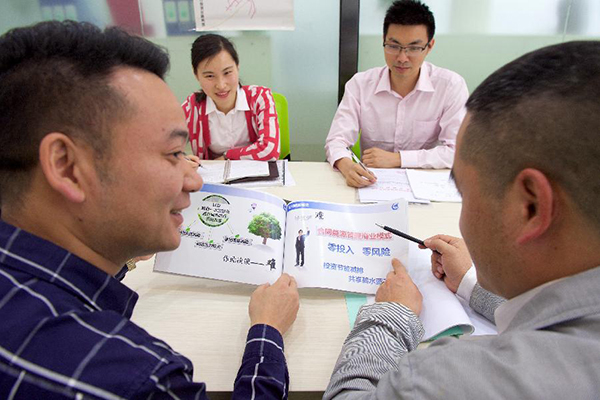 Industrial Bank staff in Fuzhou, Southeastern China's Fujian province, discussing a green finance deal with customers. [Photo/Xinhua]
Policymakers are keen to use green finance to help promote economic upgrading while tackling climate change challenges.
Demonstrating its strong commitment to switch from investment and manufacturing-led growth to a greener and more sustainable model, "China has been making quick progress in recent years in areas such as issuing green credit and green bonds," Ma Jun, chief economist of the research bureau under the People's Bank of China, told China Daily.
Despite the late start, China has quickly become the world's largest green bond market, and its green bonds issued in the first seven months of this year reached an accumulated 120 billion yuan ($17.96 billion), accounting for 42 percent of the global green bonds issued in this period, according to Ma.
However, there's much that the government can do to improve capacity building and attract private investment at a time when public funds alone will not be adequate, according to Lin Boqiang, head of the China Center for Energy Economic Research and senior professor of economics at Xiamen University.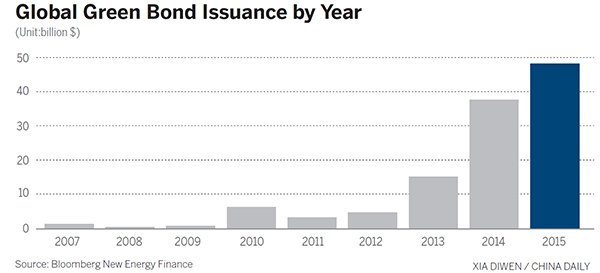 "The government can adopt policy tools such as tax cuts and implement preferential policies to mobilize capital to increase investment in green projects through the bond market," he said.
In the meantime, the cross-border difficulties faced by investors point to the need for more cooperation among nations to establish definitions and standards.
"The lack of clarity as to what are green finance activities and products (such as green loans and green bonds) in many countries can be a major obstacle, particularly for foreign investors," said Ma, adding that negotiations between policymakers could resolve the issue.
Ma believes that the G20 and other countries should promote an initiative to work on green finance indicators and associated definitions, and consider options for the analysis of the economic and broader impacts of green finance.