BOC to speed up program to finance startup firms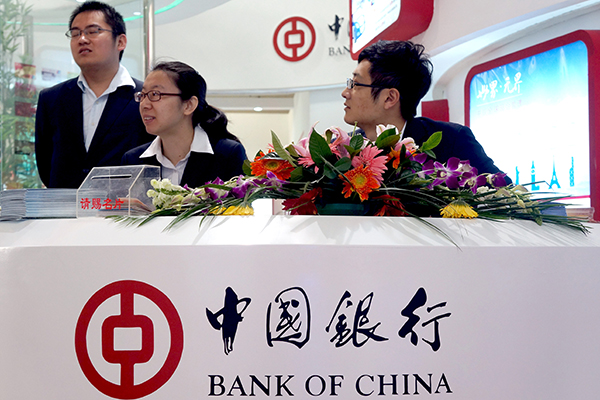 The stand of Bank of China at a financial industry expo in Beijing. [Photo provided to China Daily]
Bank says investment and loan linkage mechanism is crucial to industrial innovation
The Bank of China Ltd has pledged to accelerate the development of its key investment and loan linkage mechanism-by working with the administrative committees of five national innovation zones to build up its client base and risk compensation and information-sharing systems.
The fourth biggest commercial lender by assets in China said it signed strategic cooperation agreements with the committees on Friday and also inked accords on offering financing services through the investment and loan linkage mechanism to 12 technology and innovative companies.
Currently, it is waiting for regulatory approval to set up a subsidiary specializing in equity investments under the mechanism.
The investment and loan linkage mechanism was initiated by the State Council. It aims to encourage banks to provide sustainable finance to technology companies and innovative startups by lending to them and in the mean time allowing qualified subsidiaries of the banks to make equity investments in them.
The mechanism is expected to help banks cover credit risks and secure returns on their investment.
On April 21, the Chinese government authorized 10 banks, including the Bank of China, to carry out a trial program of the mechanism in five national innovation demonstration zones in Beijing, Shanghai, Tianjin, Hubei province and Shaanxi province.
"China is grasping the most crucial part of its innovation by carrying out a trial program on the investment and loan linkage mechanism," said Liu Qiang, executive vice-president of the BOC.
Liu said it would be a new driver for science and technology development.
The Chinese economic structural reform's focus was on reducing capacity, destocking and deleveraging, he said. Combining equity investment and their credit business, to serve technology companies and innovative startups, would help commercial banks form different development strategies to serve clients, Liu added.
Apart from making it less difficult for companies to find sources of funding, the investment and loan linkage mechanism will help the banking sector break the traditional business model, which relies heavily on lending and net interest margins, by exploring business transformation, said Guo Hong, director of the administrative committee of Zhongguancun Science Park.
"The new business model requires banking institutions to look at a company with the vision of an investor and the key is to assess the room for growth and the investment value of the company accurately," he said.
Guo said that to achieve this goal, banks needed to build a team of expert staff with a deep understanding of both credit and investment.
"They also need to make innovations on performance evaluation and organizational management accordingly. During the practice, banks may have to adjust their level of risk tolerance," he added.
"All this needs to be explored and improved continuously during the trial program."
Zhang Weixing, an official from the Ministry of Science and Technology, said the ministry was doing research into setting up standards for small and medium-sized technology companies.
It was also providing guidance for local governments to build their own database of technology companies and establish risk compensation and professional consulting systems, to help banks lower investment and credit risks.