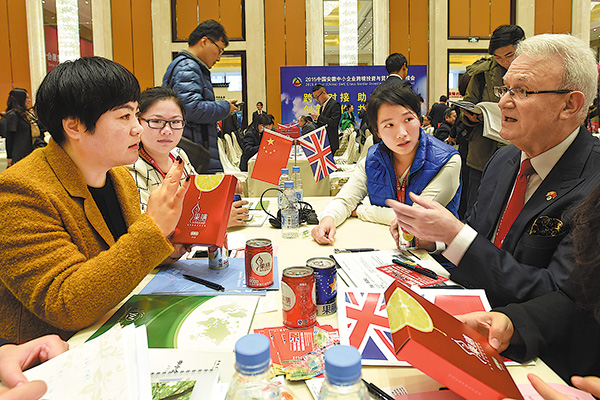 An investor from East China's Anhui province discusses issues with a UK company official on Dec 9, 2015, before reaching an agreement. [Photo provided to China Daily]

Bank of China has organized 23 cross-border "matchmaking" events for more than 8,000 small and medium-sized enterprises, or SMEs, from 56 countries and regions since 2014.

One such event was held in Milan, Italy in 2015 where Wang Da'an, chairman of a clothing company in Zhejiang, was invited. But Wang's initial reaction was to turn down the BOC invitation for Chinese-Italian SMEs' interaction, because he didn't expect much from the investment and trade negotiations.

He was proved wrong, he said, after attending the event.

His company held talks with eight Italian counterparts, including some famous ones, and settled on a men's garment maker. Taking the talks forward, the two companies discussed issues such as purchase of raw materials, sales channels and bank finance, and eventually signed a cooperation agreement.

Wang said his company, founded in 2003, had tried several times to tie up with global brands before the 2015 Milan event but drawn a blank, because foreign companies were reluctant to have a deal with his company for its "weak" brand.

"I sincerely thank Bank of China!" Wang said on May 13 at the opening ceremony of the Shaanxi SME Cross-border Investment and Trade Cooperation Conference, co-hosted by the Shaanxi provincial government in Northwest China and BOC. As a representative of Chinese entrepreneurs, he also said the bank's mediation efforts have changed many companies' fates.

At the China-Central and Eastern Europe SME Cooperation and Development Fair on May 17, 2015, Tian Guoli, chairman of BOC, said: "The bank launched the matchmaking services to help solve the problems SMEs face in cross-border operations, facilitate their entry into international markets and help Chinese companies import and master advanced technologies."

The bank's branches in Luxembourg and Rotterdam, the Netherlands, introduced its mediation services at the Global SME Finance Forum 2015 alongside the G20 summit in Turkey. And the services were praised by G20 members because of its innovativeness and efficiency, Ifeng.com said.

The "matchmaking" service aims to connect successful Chinese and overseas SMEs and provide them with comprehensive financial services in six steps. In the first step, BOC establishes a cooperation mechanism between departments of commerce, science and technology, and agriculture of Chinese provinces and cities and their overseas counterparts, as well as banks and chambers of commerce to help SMEs build international cooperation and establish a database.

Second, BOC exchanges information with its foreign counterparts and connects SMEs according to their needs. Third, it helps the SMEs communicate online to determine the suitability of the "matchmaking".

In the fourth step, the bank organizes on-site negotiations for interested SMEs. In the fifth, it arranges for the companies to visit and know more about their overseas counterparts . And in the last step, it provides various financial services for the companies.

The mediation events have been held in several countries, some of which are G20 members, and have included fields such as advanced manufacturing, environmental protection, information technology, education, modern agriculture and chemical engineering.

BOC Chairman Tian said SMEs are important engines promoting steady and healthy economic development of countries, and they play a crucial role in creating jobs and scientific and technological innovation; they also drive global trade and investment.

Statistics show that in China, SMEs contributed 60 percent to the GDP, were responsible for 70 percent of the patents and created 80 percent of the jobs in urban areas. Still SMEs are a disadvantaged group, claimed insiders, and face difficulties in getting finance and other essential support. They also said SMEs in the European Union and the United States have advanced manufacturing technologies and advanced management experience, and produce quality goods. Despite all that, they still face local market saturation. Some EU SMEs do not have enough capital because of the economic downturn.

The Chinese market is huge and multi-layered. Still SMEs' products fail to meet medium- and high-end needs of domestic consumers for the companies lack technologies, management capabilities and capital.

Chinese and overseas SMEs are complementary, but it is difficult for them to expand in the international market alone because of lack of capital and language barriers. It is to meet such challenges that Bank of China launched the cross-border "matchmaking" services and help SMEs realize their development potential.

The bank's efforts have borne fruits. Premier Li Keqiang attended a China-Italy innovation forum, organized by the bank in Milan in 2014. And the China-UK SME Business Matchmaking Event, held in the United Kingdom on Oct 23, coinciding with President Xi Jinping's visit to that country, had the support of David Cameron, then British prime minister.

Stuart Ayres, minister for trade, tourism and major events of Australia's New South Wales state, said the BOC event indicates its determination to help SMEs — an example other financial institutions should follow. Zhang Qingwei, Hebei province governor, said the BOC events not only provide an ideal platform to attract investors, but also offers all-round services, including those providing legal, financial and consultative solutions.

And an official with the UK Investment and Trade, said BOC, as a foreign bank for the UK, could provide resources for British SMEs, an option British banks would do well to follow.