A 'commando' working on extra-high voltage cables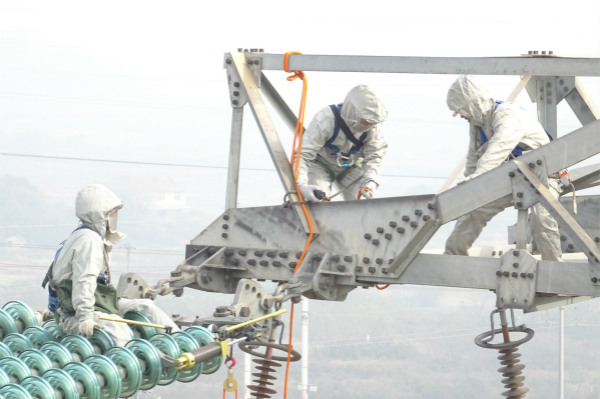 Electric operators test a new tool on UHV electricity cables at a UHV AC Test Base of SGCC in Wuhan, capital of Central China's Hubei province, on November 30, 2016. [Photo provided to chinadaily.com.cn]
In the company, Yan has trained many apprentices to pass his knowledge, techniques and spirit of craftsman to them. Some of his apprentices have gone on to make their own names in the field.
Tang Zhenghan, who used to follow Yan, now leads a Model Worker Innovation Studio named after him in the company. The studio, with 26 staff members including senior technicians, senior engineers and college graduates, has invented a large number of extra-high-voltage living work tools and owns 45 national patents.
Some people describe electric power operators like Yan as "dancers" on extra-high voltage cables, but Yan said he prefers the name of "commando".
"We and commandos are alike in many ways, having great responsibilities, working hard, dealing with troubles and facing risks," He added.
At present, China has fully mastered the core technologies of extra-high-voltage, becoming the world's first and only country that has put extra-high-voltage technologies into practice, according to Xinhua News Agency.