A 'commando' working on extra-high voltage cables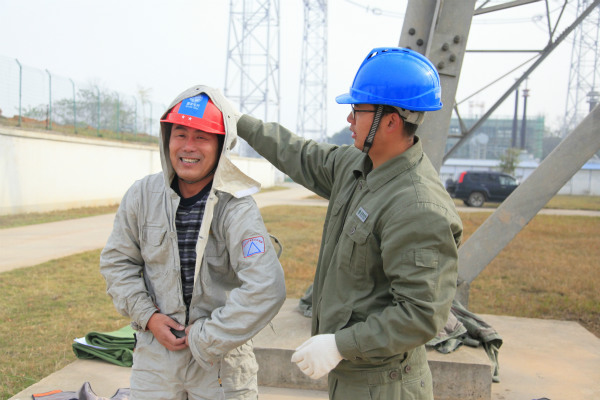 Yan Yu, son of Yan Xudong, assists him in taking off the screen clothes after he completed his work on UHV electricity cables at a UHV AC Test Base of SGCC in Wuhan, capital of Central China's Hubei province, on November 30, 2016. [Photo by Zhu Lingqing/chinadaily.com.cn]
However, when Yan's son made the decision to follow his father's footsteps, some people around Yan questioned him.
"They asked me why I was letting him do this job when I knew it was so hard and risky," Yan said. "But I believe overcoming hardship when he is young would do him good in the long run."
Yan learned the meaning of hard work from his monitor Li Xianglin. The words Li said most to him were "A good electric operator can eat, can work, can play and can bear hunger".
"When we are dispatched to work on the cables established in the wilderness, it was common to work for several hours without eating and drinking. I was once so thirsty that I took water from a ditch and drank it," Yan said.
Having experienced the hard parts of the work, such as sweating profusely inside the airtight screen clothes in summers and feeling freezing cold for hours on the cables in winter, Yan's son said he shares Yan's feelings now.
"I worried about his work a lot when I was a child, all I saw were risks. As I grew older, I became aware of how proud I should be of him," Yan Yu said.
As the champion of the company's latest technique competition, Yan Yu said father's achievements also put him under pressure. "Sometimes he would teach me hand by hand and the one thing he repeated was that safety was most important. I am not sure whether I can pass my father one day, but I want to."