A 'commando' working on extra-high voltage cables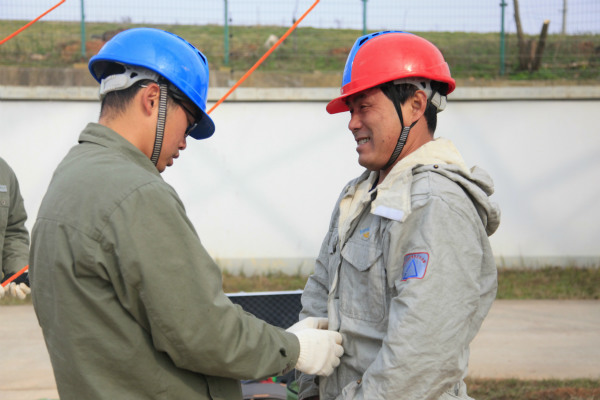 Yan Yu, son of Yan Xudong, assists him in wearing the uniform before starting work on UHV electricity cables at a UHV AC Test Base of SGCC in Wuhan, capital of Central China's Hubei province, on November 30, 2016. [Photo by Zhu Lingqing/chinadaily.com.cn]
"Unlike my father, most people just focus on the tasks at hand and don't do something that's out of their domain," said Yan Yu, Yan's 27-year-old son who has followed his father's footsteps to work as an electric power operator.
He added that he would like to spend more time on studying from experienced masters and exploring new tools and techniques.
Among his inventions, Yan treasures the ultra-high-voltage operation tools designed for live replacement of 500 KV tension insulator string most.
"The whole set of tools, invented in the early 1990s, was first of its kind in the world and brought us great fame in the field of live working on high-voltage electricity cables for the first time," Yan said.
But fame is last thing on Yan's mind.
"A service interruption lasting an hour could cause direct economic loss worth millions or even tens of millions. My sole aim of innovation is to make the tools lighter, the steps simpler and the operation more convenient," he said.
Without sounding heroic, Yan said the only thing he wants to do is to do good work all his life.