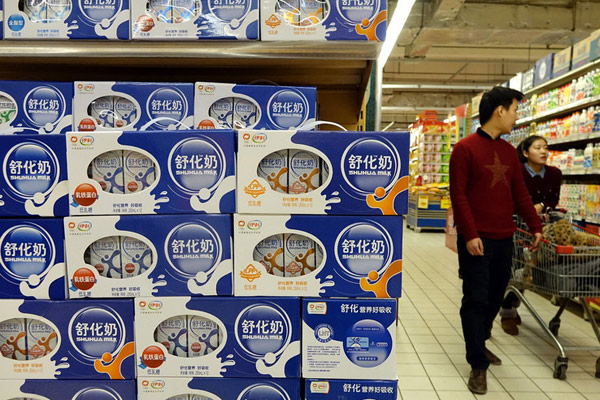 Customers walk past cartons of Yili Shuhua milk at a supermarket in Zhengzhou city, Central China's Henan province, Jan 2, 2014. [Photo/IC]
Dairy giant Inner Mongolia Yili Industrial Group Co Ltd saw its shares surge on Monday, the first day it resumed trading after its announcement that it will acquire China Shengmu Organic Milk Ltd and plans to expand in the high-end milk products market.
Yili shares surged 7.32 percent and closed at 17.29 yuan ($2.55) in Shanghai trading on Monday, the first day it resumed trading.
Yili said it planned to acquire a 37 percent stake in Inner Mongolia-based China Shengmu, the largest organic milk producer in China. It will raise funds of 9 billion yuan by offering 587 million shares in private placements, according to its statement last week.
Hong Kong-listed China Shengmu suspended trading on Monday and will soon release a statement on the takeover, the company said.
Yili, one of the earliest dairy producers in the organic milk market, said it plans to integrate its upstream high-quality supply chain capabilities, expand high-end milk categories, and rapidly expand its organic milk business.
Meanwhile, Yili plans to invest 538 million yuan in a dairy production line in New Zealand and spend about 2.5 billion yuan in a domestic project to improve the quality of value-added dairy products, in addition to investing in an R&D center and a cloud business platform in China, according to its statement.
By 2017, the output value of the global organic milk market is expected to reach $15.1 billion, with an annual compound growth rate of 9.1 percent, according to global research agency Transparency Market Research.
China, the third-largest organic milk market worldwide, has a significant growth potential for organic milk, thanks to emerging middle-class Chinese consumers who have been increasingly favoring natural, pollution-free, organic dairy products without any additives, it said.
Experts said the organic milk sector is a strategic opportunity for the future growth of the dairy industry, and the latest move is expected to help Yili to strengthen its core competence. The acquisition is likely to help Yili to become one of the top five dairy producers globally, and win the future consumption market.
Last year, Yili netted in revenues of 60.4 billion yuan, posting a year-on-year growth of 11 percent, according to the company.