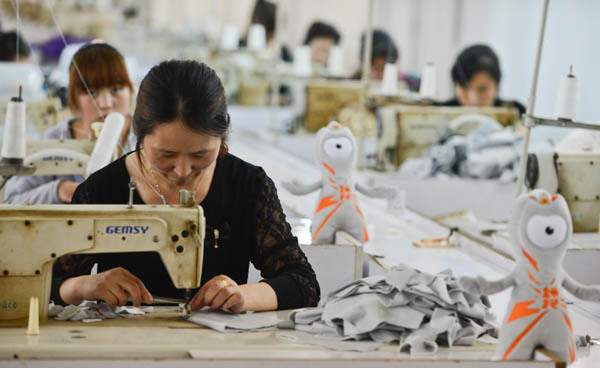 Female workers sew together the London 2012 Olympics mascot, Wenlock, in a factory in Dafeng, East China's Jiangsu province, on Jun 19, 2012. [Photo/Xinhua]
BEIJING - Chinese firms are feeling burdened by rising costs amid downward economic pressure, a report showed Monday.
About 56 percent of the surveyed 6,000-plus firms said they are under heavy pressure due to rising costs of labor, financing, land and other production factors, according to a report released by a subsidiary with the Ministry of Industry and Information Technology dedicated to facilitating development of small-and-medium-sized enterprises.
About 46 percent of them complained about rising labor costs while 28 percent said they were facing larger financing costs.
The majority of the surveyed firms were satisfied with the current charges for business registration and management and reported marked drops in unregulated fee collection.
China decided early this year to reduce the ratio of social insurance and housing provident funds that enterprises have to pay for their employees, and help them reduce costs of over 200 billion yuan ($29.5 billion) by mid 2017.