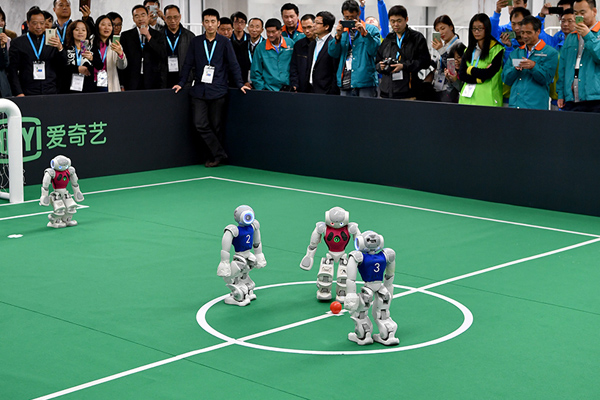 Visitors watch robots playing football during the 2016 World Robot Conference in Beijing, Oct 20, 2016. [Photo/Xinhua]
Hu Yu, vice president of Iflytek Co Ltd, China's voice recognition giant, said he felt optimistic about AI development in China. The industry advantages of China's internet and mobile internet development will help the country dominate in AI's R&D across the globe.
Taking Iflytek's open platform -- a voice recognition service that provides human-machine interaction implementation - as an example, Hu said: "currently, the overall terminal user base of the platform has reached 890 million and the daily interaction rate has overtaken 3 billion by early October".
The company has also signed partnership agreements with more than 200,000 startups to deploy the service, up 186 percent compared to the previous year.
Zhuang Yongjun, chief technology officer at Qihan Technology Co Ltd, a Shenzhen-based company focused on robotics innovation, artificial intelligence and video analysis technologies, noted that the R&D abilities of Chinese robot manufacturers had become stronger and technology-driven companies had mushroomed in recent years.
"The more things the hardware is able to do, the greater the demand for AI will be," Zhuang said.
Li Shipeng, chief technology officer of IngDan.com, a one-stop internet of things (IoT) hardware innovation platform affiliated with China's largest e-commerce platform serving the electronics manufacturing industry -- Cogobuy, told China Daily that AI was a research field in which R&D is emphasized. From an academic perspective, the sector attracted many enthusiastic domestic scientists and researchers to participate and contribute.
Li was a former executive of Microsoft Research Asia (MSRA).
"Some of the emerging industries, including medical care, home appliance or smart hardware manufacturing, have shown the nation's potentials in the development of AI," Li said. "However, some of the bottlenecks, such as the deployment and implementation of the technology in traditional industries, have still wait to be improved."