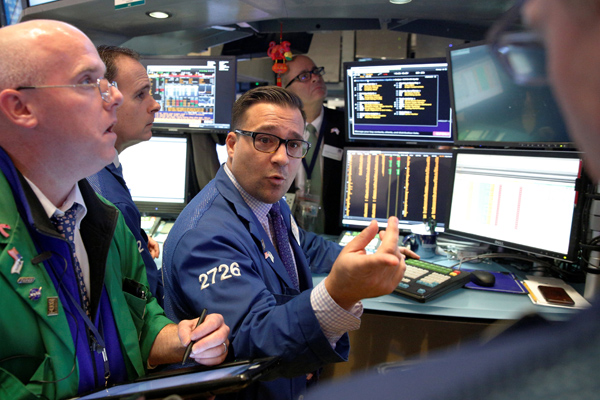 Traders work on the floor of the New York Stock Exchange in New York City. [Photo/Reuters]
Some of the largest China-focused hedge funds are reversing losses they posted early this year as the stock market recovers, although a comeback remains elusive for the industry as a whole.
The $1.5-billion Greenwoods Golden China Fund and the $728-million Pinpoint China Fund rose in September, extending a rebound that started in mid-2016 after losses earlier in the year, according to updates to investors.
Chinese mainland-focused hedge funds are having their worst year since 2011 with almost two-thirds showing losses through September, data from Eurekahedge show.
Like peers around the world, hedge funds investing in China are struggling to regain their footing in a year that's been marked by market shocks and volatility. Performance at global hedge funds such as Ken Griffin's Citadel and Izzy Englander's Millennium Management are on the upswing after recent gains helped offset earlier losses.
Declines have been deeper at China hedge funds, which are trailing global counterparts for the first time in five years, after they hemorrhaged an average 8.8 percent in January amid a stock rout triggered by worries about China's economic slowdown.
Concerns have eased in recent months as economic data and corporate earnings beat estimates, helping China stocks climb since this year's low in January. A gauge of China's stock market volatility last month fell to the lowest in two years amid policymakers' resolve to shore up the equity market.
"We've seen signs of stabilization with both mainland's macro economy and equities market," said Joseph Zeng, the partner in charge of the Hong Kong office at Shanghai-based Greenwoods Asset Management. "The forthcoming Shenzhen-Hong Kong Connect is expected to be a catalyst for Hong Kong-listed equities," referring to a link between the markets scheduled to start in November that will help cross-border investments.
The Golden China Fund returned 3.3 percent in September, the fourth straight month of gains, bringing this year's advance to 1.2 percent. Profit drivers in the month included bullish bets on US- and Hong Kong-listed internet and technology companies, energy and consumer stocks, Zeng said. The fund also made money from bearish wagers on some Hong Kong-listed companies, he added, without identifying them.
Pinpoint China Fund added an estimated 1.1 percent in September, taking this year's return to 3.3 percent, according to an investor update. The fund has generated positive monthly returns since July.
Other China funds narrowed losses in September. APS Asset Management, the Singapore-based investment firm, booked a 0.2 percent September gain for its APS China A-Share Fund, which has $2.3 billion of assets including related strategies. The fund has lost 4.9 percent since the beginning of the year, compared with a 13 percent loss in the CSI 300 Index, according to the firm. Class-A shares are yuan-denominated and trade on the Shanghai and Shenzhen stock exchanges.
Hedge funds investing in China as a group are down about 1 percent this year. After three straight months of gains, though, the number of funds with positive returns for 2016 has more than tripled to 34 percent since June, according to Eurekahedge data.
Some China funds extended gains in September. The $240-million Zeal China Fund has risen nearly 13 percent this year, after a 1.2 percent return in September. It profited from bullish bets on Hong Kong and mainland-listed stocks. Materials companies, including those involved in chemicals, metals and mining, paper, drove most of the performance, William Shek, Hong Kong-based head of marketing and investor relations at Zeal Asset Management, said in an email.
The $85-million long-short GH China Century Fund, managed by Singapore-based Lygh Capital, returned 0.7 percent in September. The $85-million fund beat markets this year with its 13.4 percent gain.
Bloomberg