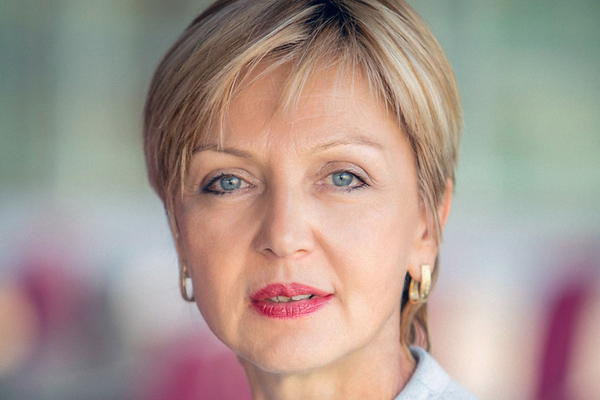 Corinne Saunders, CEO of Emerging& Developing Markets unit of Wolters Kluwer. [Photo provided to China Daily]
The Netherlands-based Wolters Kluwer, which provides information, software and digital services to professionals in a wide range of fields, plans to expand in China to harness the huge potential in the health industry, said Corinne Saunders, CEO of the company's emerging and developing markets unit.
China is already one of the fastest-growing markets for Wolters Kluwer. Founded in 1836, the Dutch company reported 2015 annual revenues of 4.2 billion euros ($4.7 billion).
The company's digital tools, content and services help professionals understand and comply with regulations and rules related to their field, thus boosting their operational efficiency, decision-making ability and confidence.
"We have been present in China since 1985. We established more focused operations about 10 years ago," said Saunders.
Over the last six years, the company has expanded its China team from 100 to over 600. It has launched a Chinese-language version of its online medical encyclopedia app UpToDate last year.
The English app is popular among medical professionals in the United States. It is an evidence-based clinical decision support resource authored by physicians to help clinicians make right decisions at the point of care.
It is accessed by about 1.1 million physicians around the world and consulted about 26 million times per month to answer diagnostic and treatment questions.
"We see much demand for resources like UpToDate in the Chinese market. This is the first time we fully translated a product anywhere in the world," said Saunders.
More than 4,000 Chinese associate chief physicians from over 200 local leading hospitals contribute to the effort.
Saunders said, "The Chinese government is committed to chronic disease management and investing in raising the standard of medical practices across the country."
A shortage of healthcare professionals, aging population and China's emphasis on increasing productivity and standards created huge opportunities for Wolters Kluwer, she said.
The company will continue to step up its investment in China. Emphasis will be on evidence-based medicine which holds vast untapped potential, she said.
"As we look at new opportunities we will keep our pace of investment. We do that because we believe the market conditions in China are particularly favorable for our solutions," said Saunders.
There is a lot of demand for authentic and useful content among professionals in China across key sectors like legal, tax, accounting, finance, and healthcare, due to the rapid growth of professional classes and adoption of mobile technology, she said. "This is creating a huge demand for information solutions."
Saunders has gained extensive knowledge of emerging markets in her past jobs. That helps her in her brief to establish a long-term presence for the company in key emerging markets like China, India, Latin America, the Middle East and Africa.
High-growth markets like China, India and Brazil are key as the revenue base here has tripled in the past five years.
"To succeed in these new markets, it's fundamental that you have to understand those markets as they are," said Saunders. "We do a lot of market research to understand the complexity of the market. We work together with local partners."
She said a major difference in the emerging markets is the capacity to use English content. "In India, English is widely used. Even in (Portuguese-speaking) Brazil, physicians are able to consult English content but not nurses.
"In China, we need to translate all our content. So, we've invested in localizing our flagship point-of-care solution UpToDate into Chinese."
The company is always looking for opportunities for growth, by developing organic initiatives, establishing partnerships and possible acquisitions. "We adopt a flexible, market-driven strategy in M&A."
To lead a foreign company effectively in China is not easy, she said. "You need to create a very clear vision, build a very strong local pool of talent, engage with key stakeholders as well as understand the market dynamics."
Yet, sometimes, hardships and setbacks are inescapable. "To learn, adapt and adjust-that's very important to go through the process."
In this regard, her life philosophy helps. "I prefer to do everything with a passion. Doing what you like and doing it with a passion is something I try to do."
For her, team is very critical for success in career. "It is very important to create a strong support system, which could support you when you are in difficult times."