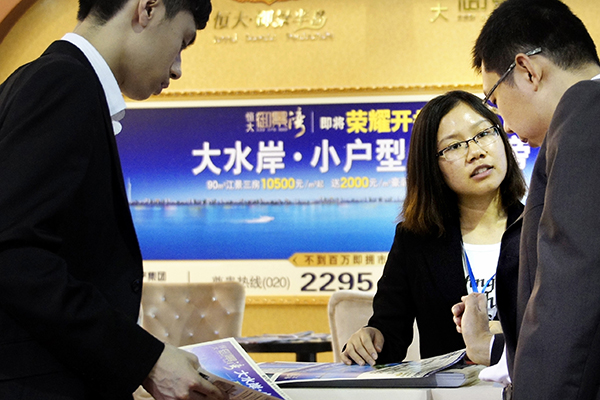 A China Evergrande salesperson introduces the property developer's apartment project to customers at a real estate expo in Guangzhou, Guangdong province. [Photo provided to China Daily]
Company remains heavily indebted, with falling profits and vulnerable to interest rate increases
China Evergrande, one of the Chinese mainland's top two real estate companies, has decided to sell all of its non-core businesses in the grain and oil, dairy products and spring water sectors for the aggregate price of 2.7 billion yuan ($409 million), in order to put more focus on its property development business, as mainland house prices are going wild recently.
The Guangdong-based developer will sell its grain and oil business for 600 million yuan, the dairy products business for 300 million yuan and the spring water business for 1.8 billion yuan, according to a filing made to the Hong Kong Stock Exchange.
The sales agreements were signed on Wednesday, and Evergrande will receive 10 percent of the value for each sale within three days, with the remainder paid out by buyers within three years. The company said in the filing that the sale of the three businesses is expected to yield a before-tax gain of 5.7 billion yuan.
The non-core businesses have dragged down the company's performance in the past years. For example, the spring water unit incurred a 2 billion yuan loss in 2015, following a 2.37 billion shortfall the previous year, according to the data compiled by Bloomberg.
Analysts seemed unimpressed by the company's move. "I don't think the disposal of the non-core businesses will much help the company's performance, because the biggest problem for Evergrande is its heavy debt," Kingston Securities Research Executive Director Dickie Wong Tak-kei told China Daily.
According to Evergrande's interim results, although the company registered a 12.6 percent jump in sales in the first half, its income attributable to shareholders slumped 74 percent to 2.46 billion yuan, due to the 60 percent rise in payments on the company's perpetual bonds as well as a surge in marketing costs.
The share price of Evergrande rose as much as 3.4 percent on the news on Wednesday morning to a three-week high in Hong Kong, but then the gains were trimmed to 0.37 percent in the afternoon to close at HK$5.39. The benchmark Heng Sang Index slightly increased 0.2 percent to 23,619 points.
Evergrande's move is in line with the currently buoyant property market. Official data showed that average new home prices in 70 major Chinese cities climbed for 11th months in August, up 9.2 percent from a year earlier, and higher than 7.9 percentage growth in July, with economically-strong areas reporting drastic price rises, and less developed areas marking mild price growth.
House prices in Shanghai, Shenzhen and Beijing rose 37.8 percent, 37.3 percent and 25.8 percent year on year respectively, compared with 33.1 percent, 41.4 percent and 22.7 percent in July.