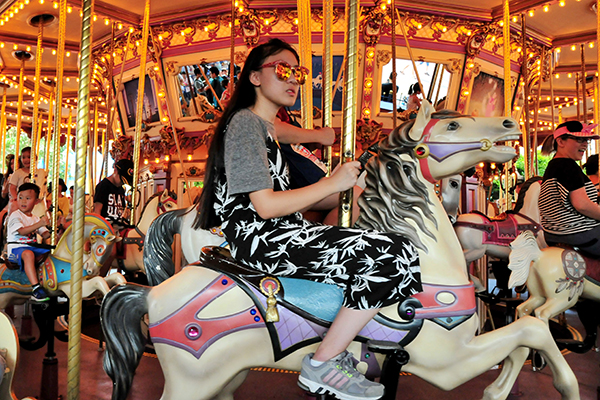 Visitors enjoy rides at Hong Kong Disneyland. The Hong Kong Economic Times said that 60 percent of mainland individual visitors choose Macao and that Hong Kong is no longer their top choice. [Photo/China Daily]
With the National Day holiday (Oct 1-7) just around the corner, tourist industry chiefs on Wednesday voiced concerns that Hong Kong would continue to suffer from shrinking mainland visitors, after a brief rebound in July, to resume the past 12 months of dwindling numbers.
Hong Kong Travel Industry Council Chairman Jason Wong Chun-tat said the city now receives about 180 tour groups from the mainland every day. He projected that the number would slightly increase to 200 during the holiday week, down about 30 percent year-on-year.
According to the HKTIC, the daily average number of mainland group tours to Hong Kong during previous seven-day National Day holiday was 260 and 300 in 2015 and 2014, respectively.
As for individual tourists, booking data from Ctrip.com International Ltd, a leading online travel agency in China, indicate that Seoul has beaten Hong Kong to become the number one overseas destination for this coming golden week.
Victor Chan, chairman of the Hong Kong Hotels Association, said price rates for local hotels had been reduced by 10 percent and bookings were not as good as those of last year.
However, industry insiders found Macao, on the contrary, was becoming more attractive to mainland visitors.
The Hong Kong Economic Times reported 70 percent of mainland individual tourists chose to visit Hong Kong in previous years, but this year 60 percent of them turned to Macao.
The amount of time tourists are spending in the two cities is also expected to change. One travel agency manager said that taking a five-day trip as an example, some mainland tourists who usually spent only one day in Macao are now allocating four days there.
The manager said he believes the opening of two new resort hotels in Macao was proving to be a potent lure for many tourists.
Ricky Tse, founding president and chairman of the Hong Kong Inbound Tour Operators Association, said he was concerned that Hong Kong was being increasingly left on the sidelines, as Macao connected with Shenzhen, Zhuhai and Hengqin in Guangdong province in the various package tours on offer.
Analysts have noticed the trend, saying another factor is at play. Besides Macao, more and more destinations have relaxed their visa policies-including the United States-in a development that is continuing to draw mainland tourists away from Hong Kong, said Wang Yi, a Shenzhen-based analyst at Ctrip.
She said many mainlanders now asked for a few more days off to travel further afield and the United Kingdom had become a very popular destination this year, thanks to the depreciation of the pound leading to falling traveling costs and greater spending power for shopping.
Latest Ctrip data indicated that the prices of UK travel products had decreased about 20 percent compared with last National Day holiday-and half of them were fully booked one month in advance.