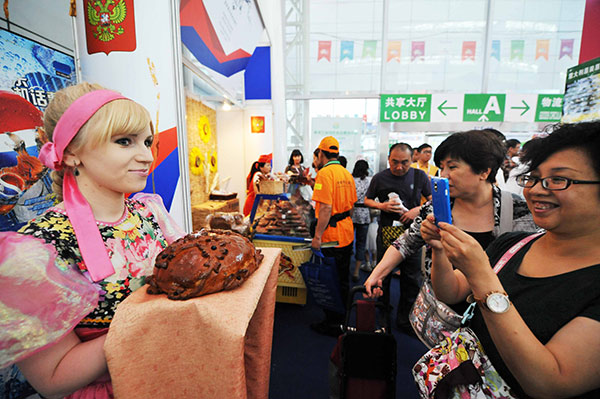 A visitor to a trade fair in Harbin, capital of Heilongjiang province, photographs a woman in traditional Russian costume. [Photo/Xinhua]
China's expanding Belt and Road Initiative will further integrate with the development programs of partner countries-including Indonesia's Maritime Power Strategy-for a new growth momentum to boost the region's economy, senior government officials said on Monday.
Vice-Minister of Commerce Fang Aiqing said the partners were mostly emerging economies and developing nations in the midst of industrialization, characterized by fast economic growth and offering enormous potential for future development.
"China needs to link the initiative further with the countries' strategies including Mongolia's Silk Road on the Steppes Program, Kazakhstan's Glorious Road New Economic Policy, South Korea's Euroasia Initiative, and India's Route Plan," said Fang.
The infrastructure, service and trade network proposed by China in 2013 envisions a Silk Road Economic Belt and a 21st Century Maritime Silk Road, covering about 4.4 billion people in more than 60 countries and regions in Asia, Europe and Africa.
The trade volume between China and countries and regions along the Belt and Road Initiative totaled $446 billion in the first half of 2016, accounting for 26 percent of China's total foreign trade during the same period, data from the Ministry of Commerce showed.
Fang said negotiations on bilateral investment treaties were also picking up pace, and China was willing to deepen economic cooperation including starting free trade agreement talks and establishing cross-border industrial parks with more countries and regions along these two trading routes.
China invested $51.1 billion in total in these countries and regions from January to June this year, accounting for 12 percent of China's overseas direct investment.
"The initiative is a pursuit not to establish China's own sphere of influence, but to support common development of all countries and regions along these two trading routes," said He Lifeng, vice-minister of the National Development and Reform Commission.
The director of the Center for China Studies in Nigeria, Charles Onunaiju, said infrastructure interconnection was identified as the priority of Belt and Road Initiative construction.
He said due emphasis was placed on large transportation projects during the construction of all the six economic corridors-such as the China-Pakistan Economic Corridor and the China-Central and West Asian Economic Corridors-under the framework.
"Large-scale infrastructure programs have also been rolled out by countries along these two trading routes," said Onunaiju.