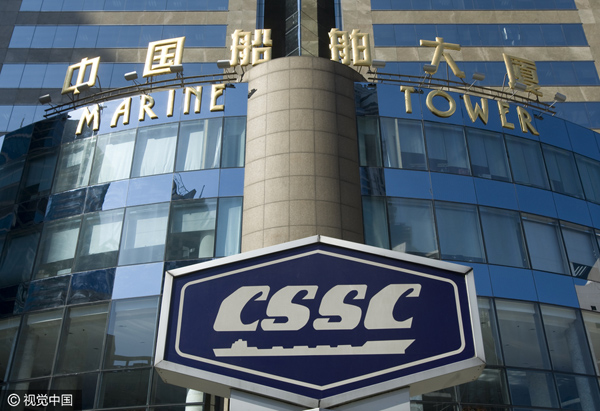 A view of China State Shipbuilding Corp's headquarters in Shanghai, July 8, 2008. [Photo/VCG]
Rising middle class is a huge potential market for leisure activity offering exponential growth
With the rapid growth of the Chinese market for cruises, the first large luxury cruise ship to be built in China is entering the implementation stage and it is expected to be delivered in 2022.
China State Shipbuilding Corp, China Investment Capital Corp, Carnival Corp & PLC, Fincantieri S P A (Fincantieri), CSSC Cruise Technology Development Co Ltd and Shanghai Waigaoqiao Shipbuilding Co Ltd, jointly signed a memorandum of agreement on Friday in Tianjin.
They will place an order for two large cruise ships, with the first one to be delivered in 2022. An option to order two additional cruise ships has also been granted. All four ships will be built by SWS, a subsidiary under CSSC.
"The agreement is an important milestone in the development history of the Chinese high-end equipment manufacturing industry and shipbuilding industry," said Zheng Weihang, executive vice president and secretary-general of China Cruise and Yacht Industry Association.
"China has been a strong power in commercial ship building for many years, but it lagged behind in luxury cruise building. We will cooperate with foreign companies to learn and introduce advanced manufacturing technologies," he said.
The design of the first China-built cruise ship will be based on Florida-based Carnival's Vista-class platform. The design will be tailored to the Chinese cruise market and the specific tastes of Chinese travelers, CSSC said.
The gross tonnage of the new cruise ship will be around 133,500 tons, and the length will be about 323 meters. The ship has 15 decks and more than 2,000 cabins, with a maximum capacity of around 5,000 passengers. The style of the ship will integrate innovative technologies and an exotic and relaxed touch.
Wu Qiang, general manager of CSSC, said: "Currently, Chinese take about 1 million individual luxury cruise trips every year. Ten years from now, the number is expected to grow to 8 to 10 million. There is a significant growth potential of the cruise market in China."
"With a huge emerging middle-class and their rising income in the next few years, about 200 to 300 million Chinese will have the spending ability to take cruise trips - a number exceeding that of the United States. Chinese are increasingly concerned about healthy and diverse means of entertainment and travel. Ocean travel will be a critical element of that trend."