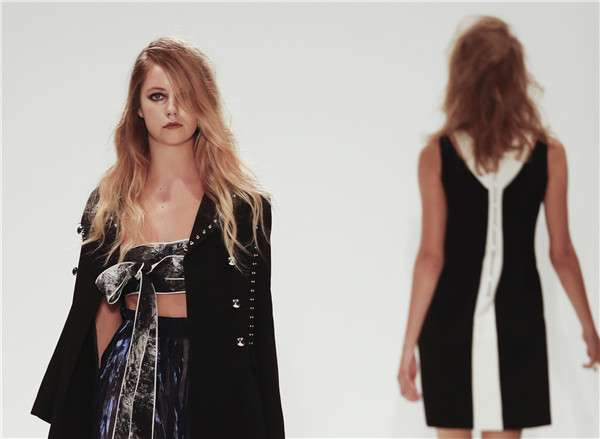 Models present AtoG Lingerie, luxury custom-made undergarments, at the Fashion Scout during the London Fashion Week on Sunday. AtoG is a leading tailor-made lingerie brand founded by Zhou Yingying from China.HAN YAN/XINHUA
Chinese lingerie brand AtoG Lingerie, in collaboration with Annderstand, launched on Sunday four luxury custom-made undergarments at Fashion Scout during London Fashion Week, becoming China's first underwear brand to appear at international fashion shows twice in one year.
The latest works by designer Yu Ge have a sense of fusion, beauty and uniqueness in cutting-edge style. She has previously worked as a ready-to-wear buyer for luxury brands such as Louis Vuitton and Gucci in their retail and merchandising departments.
Fashion Scout, the international showcase for fashion pioneers, is the United Kingdom's largest independent showcase for emerging and established design talent during London Fashion Week.
Many talented designers made their careers by presenting their brands at Fashion Scout, including Peter Pilotto and David Koma. Alongside British designers, it also provides a platform for international designers such as Yu to demonstrate their talents.
Fashion Scout Director Martyn Roberts said he had witnessed many good works by Chinese designers during these years. He said he believes that AtoG's undergarments are very unique and creative, showing a new level of Chinese design.
AtoG is a leading tailor-made lingerie brand founded by Zhou Yingying from China. In February, AtoG launched five custom-made luxury undergarments with Vivienne Hu during 2016 New York Fashion Week, becoming China's first lingerie brand that participates in the "Big Four" fashion weeks.
Zhou said that she brought AtoG to London Fashion Week to let the world know the creativity of Chinese design.
She hoped that AtoG Lingerie would mark a revolutionary progress in the traditional undergarment making industry by realizing its "custom-made line with volume production capacity" pattern.
AtoG's pioneer concept "matching underwear like matching glasses" aims to be a professional breast steward by making the most suitable bras, and creating a one-stop breast care service through combining customized undergarments with professional breast care, she said.
London Fashion Week is a clothing trade show held in London twice each year, in February and September. It is one of the "Big Four" fashion weeks, along with those of the New York, Milan and Paris.