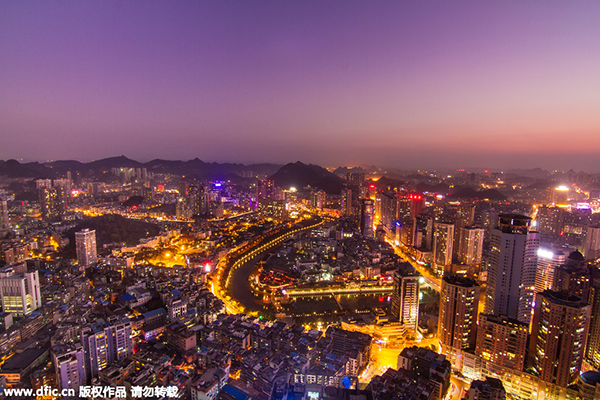 An aerial view of Guiyang, Dec 29, 2014. [Photo/IC]
Guiyang, the capital city of southwestern China's Guizhou province, topped the list of best-performing cities in China, beating even a couple of coastal megacities, according to an economic study released by the Milken Institute on Monday.
The independent US economic think tank based its study on a mix of economic factors in 33 first- and second-tier cities and 232 third-tier cities across China. These cities are evaluated by their growth in jobs, wages and regional gross domestic product over one and five years, levels of foreign direct investment and proximity of high value-added industry employment.
Guiyang, which moved from the 11th position in last year's inaugural ranking, to the top position this year, is followed by Shanghai and the northern port city of Tianjin, which came in second and third in the ranking, as they did last year.
Despite being in less-developed southwestern regions, Guiyang benefited a lot from the central government's effort to bridge the gap between the coastal and inland regions. In particular, the Belt and Road Initiative has helped Guiyang attract more investment, thus spurring economic growth.
"Our data-driven analysis reveals that increased openness, economic restructuring, and urbanization, often in the form of major urban clustering, have all led to economic improvement and development in China," said Perry Wong, managing director of research at the Milken Institute, who is also co-author of the study report.
According to the World Bank, China's urbanization rate reached 56 percent at the end of 2015, exceeding the targeted rate of 51 percent set by the 12th Five-Year Plan (2011-15).
"The cities in the less-developed inland regions have elevated their growth rates as large-scale urbanization continues to drive China's economy," said Wong.
Among the top 10 cities in the ranking of first- and second-tier cities, half of them are coastal cities in eastern, northeastern and southern China, including Dalian in Liaoning province and Haikou in Hainan province, the rest are all from the inland regions.
Two inland cities besides Guiyang debuted in the top 10 list for the first time-Nanchang in Jiangxi province and Xi'an in Shaanxi province came in the seventh and ninth place respectively.
The increased openness brought up by China's 12th Five-Year Plan and the Belt and Road Initiative also helped unlock potential trading opportunities along a series of inland regions.