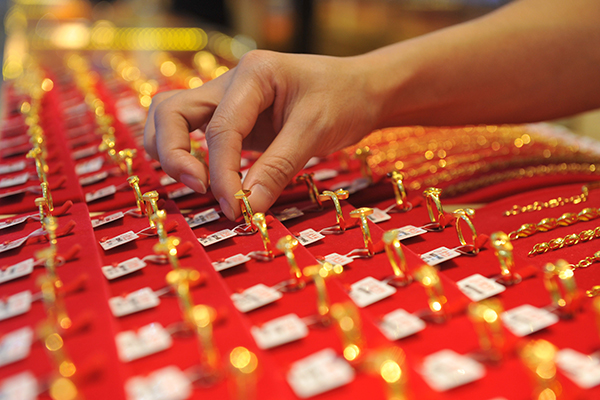 A clerk sorts gold jewelry at a shop in Linan, Zhejiang province, June, 25. [Photo/China Daily]
China's young gold-backed ETFs shrug off short-term shocks, evolve into long-term bets
When 63-year-old retiree Zhu Wanhua heard about the opening of the Shanghai Book Fair in August, she went to the annual event despite the late summer heat, in search of books on how to trade in gold-backed exchange-traded funds.
"There is a saying that when markets fluctuate, you should buy gold. I know there is a lot of talk about dama (retired ladies) buying gold. I used to buy gold too, but storage and transactions posed trouble. So, when I met my friend who trades in gold-backed ETFs, I decided to learn about them," she said.
Sections of investors in China have been shifting their attention to gold-backed ETFs from physical gold of late. Like them, Zhu has been tracking the gold price online and subscribed to market newsletters. The rise in prices of gold as well as gold-backed ETFs in the first half of 2016 set her thinking.
The impact of the June 23 decision of the United Kingdom to exit the European Union on securities, currencies and commodities markets, including the gold market, is likely to be reflected in the July-September quarter.
In the seven days after the vote, searches for "gold" on Baidu surged 44 percent year-on-year.
A World Gold Council report said the gold price in US dollar terms rose 25 percent year-on-year in the January-June period, the best first-half record since 1980.
"Gold demand in Q2 followed the trend from the prior quarter: huge ETF inflows counterbalanced by anaemic jewelry demand amid rising prices. Investment was the largest component of gold demand for two consecutive quarters, the first time this has ever happened," the WGC report said.

Chinese investors' appetite for gold ETFs has been reflected in the sharp rise in the first half. Combined holding of four Chinese gold-backed ETFs rose from 6.3 metric tons at the beginning of the year to 24.4 tons at June-end, up 287 percent.
E Fund Global Tradable Open-ended Securities and Investment Fund, one of China's four gold-backed ETFs, saw a surging appetite for investments as its assets under management grew from 960 million yuan ($143 million) to 1.9 billion yuan in the past two months.
Lin Weibin, manager of the fund, said gold remains a haven for risk-averse investors and will continue to attract more of them amid slowing global economic growth and monetary easing.
China's holdings of gold-backed ETFs have dipped on occasion after the release of some positive US economic data. These dips are considered part of a natural cycle based on investors' short-term sentiment change.
Overall, China's gold-backed ETF market is expanding fast as investors are getting more familiar with the investment option, said Yang Fei, analyst with Shanghai-based Seewonder Financial Information Ltd.
"Gold is always an option while building an investment portfolio. Short-term price fluctuations and holdings won't change gold's intrinsic merit as a long-term hedge against risk," said Yang.
Currently, gold ETFs in China are quite small relative to other investment options, so investors have little say in their pricing, despite China being one of the world's largest gold producers and consumers. But investors' increasing appetite and expanding knowledge will gradually improve the situation, said analysts.
Based on the size of gold holdings and the size of assets under management by the end of June, China's four gold ETFs were ranked below 50 among the more than 70 ETFs worldwide tracked by the WGC. The world's major gold ETFs are based in the US, Canada, the UK, Switzerland and Germany. Their gold holdings and assets under management far surpass those of Chinese ETFs.
Xue Ke, chief analyst and deputy general manager with Tianjin Jinhengfeng Precious Metals Management Co, said that precious metal-backed ETFs in China are going to further grow and get diversified given rising investor demand.
"China's existing gold-backed ETFs were introduced in 2012, which means the market is still quite young. Undoubtedly, more options will be introduced in the near future," said Xue.