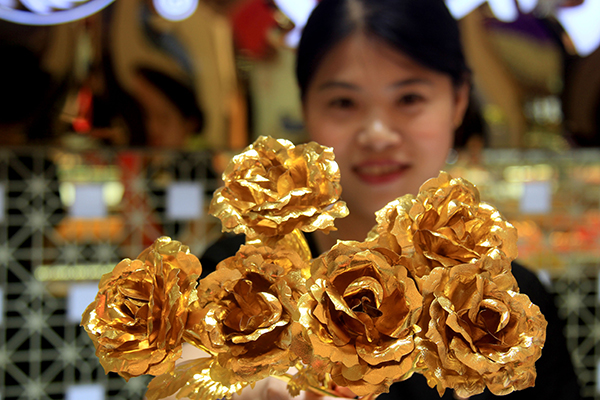 A worker displays the "gold roses" introduced for the traditional Chinese Qixi Festival by a gold shop in Lianyungang city, Jiangsu province, on August 8, 2016.
CHICAGO - Gold futures on the COMEX division of the New York Mercantile Exchange fell Friday as investors locked in profits from gains on disappointed economic data and weaker US dollar.
The most active gold contract for December delivery fell $6.8, or 0.5 percent, to settle at $1,34.2 per ounce.
Boosted by weaker US equities, dollar and disappointing economic data from China and the United States, the precious metal, widely seen as a safe haven asset, had rose during much of the session.
Investors started to get wary as prices failed to hold ground above the key level of 1,350 dollars.
The US Dow Jones Industrial Average fell by 70 points, or 0.38 percent as of 17:00 GMT, which analysts noted was favorable to gold.
The US Dollar Index, a measure of the dollar against a basket of major currencies, also fell 0.26 percent to 95.66 as of 17:00 GMT. The index is a measure of the dollar against a basket of major currencies. Gold and the dollar typically move in opposite directions.
Investors also took note of worse-than-expected the producer price index which showed that the index fell 0.4 percent in July,
Silver for September delivery fell 31.7 cents, or 1.58 percent, to close at 19.703 dollars per ounce. Platinum for October delivery dropped 27.4 dollars, or 2.37 percent, to close at 1,129.3 dollars per ounce.