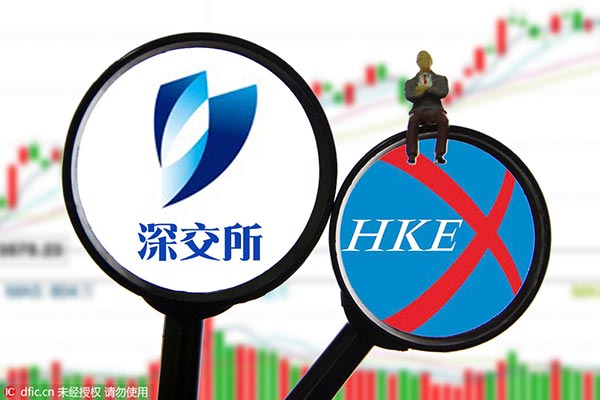 Premier Li Keqiang said in March that the central government will seek to launch the Shenzhen-Hong Kong Stock Connect this year.[Photo/IC]
China's securities regulator released a draft on Friday detailing the expansion of an initiative that further opens the A-share stock market to investors.
The draft revises the regulations for the Shanghai-Hong Kong Stock Connect, expanding their range to include the Shenzhen-Hong Kong Stock Connect.
The China Securities Regulatory Commission has invited the public to comment on the draft until September 25.
"The launch of Shenzhen-Hong Kong Stock Connect can be good for mainland and Hong Kong markets. It in turn will help the opening-up of China's capital market," said Hong Hao, chief strategist at BOCOM International Holdings Co.
On Aug 16, the State Council approved a long-awaited plan to connect a second mainland stock exchange with Hong Kong's, further opening-up the A share market. Premier Li Keqiang said that stock connect is expected to open this year.
The Shenzhen-Hong Kong Stock Connect, which allows mainland investors to buy Hong Kong stocks and vice versa, had been expected for more than a year following a similar program between Shanghai and Hong Kong in 2014.
Zhang Xiaojun, a spokesman for the China Securities Regulatory Commission, said on Friday that main changes in the draft regulations include the range of application and confirming investors' more flexible currency exchange procedures.
"The CSRC's amendment concerning the currency exchange mechanism is good for investors, because the risks of the exchange rate can be relieved," said Banny Lam Chiu-kei, managing director at CEB International Investment Corp.
Lam said some investors already hold Hong Kong and US dollars, so they don't want to convert yuan while the RMB is falling. In the future, there's a possibility that investors could use Hong Kong dollars, US dollars and yuan to trade with brokers for Hong Kong stocks.
The launch of the Shenzhen-Hong Kong Stock Connect will not affect trading in the Shanghai-Hong Kong Stock Connect, Lam said, as the two markets focus on different kinds of companies. The Shanghai market comprises mostly large cap stock companies, such as large banks, while the Shenzhen market are mostly high-tech companies.
The Shanghai Composite Index added less than 0.1 percent to close at 3,070.3 on Friday. The Shenzhen Component Index rose by 0.14 percent, while the ChiNext startup index climbed by 0.42 percent. The Hang Seng Index climbed 0.4 percent, paring a weekly decline.