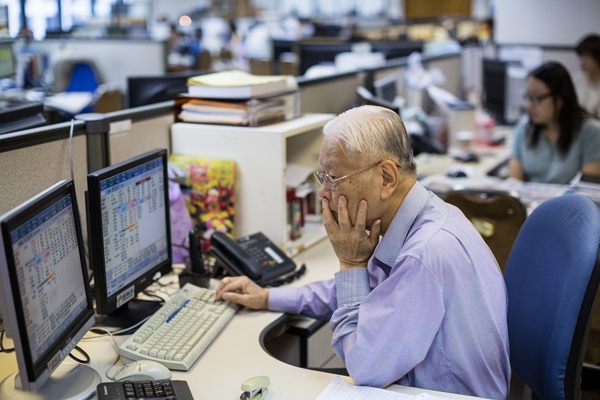 A stockbroker works in front of a screen displaying share prices at a securities brokerage in Hong Kong. [Photo/Agencies]
HK debuts price volatility control New mechanism triggered if stock down or up 10% from last traded price five minutes ago
Bourse operator Hong Kong Exchanges and Clearing Ltd (HKEx) on Monday rolled out a stock price volatility control system similar to Singapore and Japan to prevent extreme price swing arising from major trading errors and other unusual incidents.
The volatility control mechanism currently only applies to 81 constituent securities of the Hang Seng Index and Hang Seng China Enterprise Index.
This new trading mechanism is scheduled to be implemented in HKEx's derivative market in the fourth quarter of this year, targeting a total of eight index futures contracts.
The new mechanism will be triggered if a stock climbs or drops 10 percent from the last traded price five minutes ago. That would be followed by a five-minute cooling-off period during which the assets can trade only within a prescribed band. Normal trading will resume afterward for the rest of the session without further intervention.
For index futures contracts, the same mechanism will be triggered if contract prices are up or down 5 percent from the last traded price five minutes ago.
The mechanism stipulates a maximum of one trigger per stock in each of the morning and evening trading session within a day.
"The VCM is not intended to limit the ups and downs of stock prices due to fundamentals, and it should not be mistakenly seen as a trading halt mechanism or confused with the daily price limits that some markets use to keep a stock's trading within a specific price range," said Roger Lee Kwok-keung, head of markets at HKEx.
"If it restricts the wild things, then it is great," said Andrew Sullivan, managing director for sales trading at Haitong International Securities Group in Hong Kong. "As long as it does not become intrusive, then it' is not a bad thing, because it does give that moment for the market to readjust."
HKEx does not expect the VCM will take effect very often as market statistics reveal triggers would have been very infrequent.
The change comes about a month after the bourse started a closing auction session (on July 25) for the first time in seven years after completing a market consultation last year. The new measure is to meet market demand for trade execution at securities' closing prices.
The volatility control may help minimize sudden swings in stock prices, but will not stop trading in a stock or derivative for the day. BYD Co, a mainland electric-car manufacturer, fell as much as 12 percent on Jan 7 in Hong Kong trading and closed 10 percent lower from the previous day after it was downgraded by Morgan Stanley.
June 24 was the most volatile trading session for the Hang Seng Index, Hong Kong's equity benchmark, in a year. The index fell as much as 5.8 percent and rose as much as 0.8 percent in the aftermath of the UK's vote to leave the European Union.