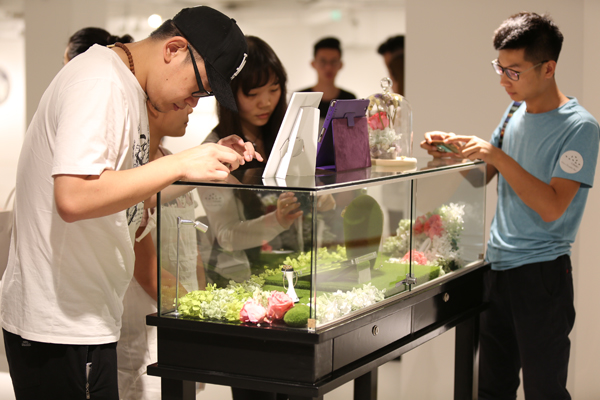 Visitors take photos of smart jewelry at the launch of the Totwoo brand in late July in Beijing. PROVIDED TO CHINA DAILY
Necklaces, bracelets aren't just status symbols, fashion accessories, hedging tools-new brands give them the high-tech, multipurpose edge
Beijing-based Totwoo, China's first smart jewelry maker that started mass production in June, has gone digital with a store on online marketplace JD.com in late July.
By marrying precious metals with high-tech wearables, Totwoo has come up with what promises to be a whole new category of fashionable technology products.
Jing Jing, a jewelry expert and editor of Harper's Bazaar Jewelry in China, said: "Chinese consumers have started to change their mindset. From buying jewelry as hedging tools, they are now buying them as fashionable decorations. Smart jewelry with rich aesthetic values and high-tech functions could become a brand new category."
To be sure, Totwoo is bullish on the growth potential of smart jewelry in China.
For the uninformed, here's how smart jewelry works: a tap or a shake will make a gold-plated silver necklace or a Swarovski crystal-studded bracelet with embedded circuitry double up as a pedometer.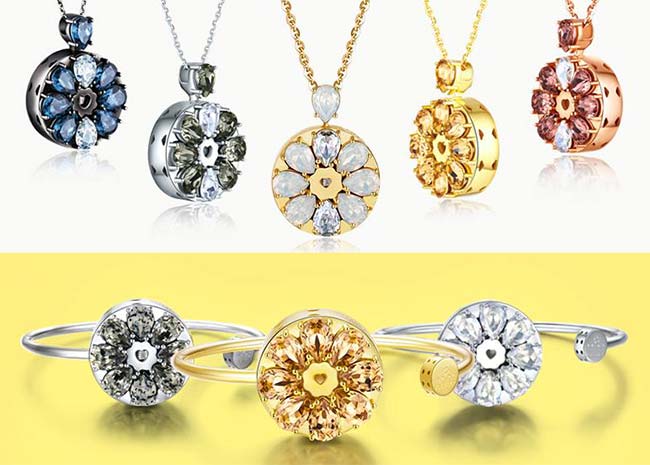 Necklaces and bracelets are shown on Totwoo's official website. [Photo/totwoo.com]
Tap, tap, tap ... shake, shake shake-and, presto, the smart jewelry piece multitasks as a calorie consumption calculator, a reminder of your sedentary state (like prolonged desk work or TV-viewing) and a monitor of harmful ultra violet rays.
That's not all. You can switch on the 'shining mode' to make the jewelry flash continuously, which will likely make you the cynosure of all eyes.
Each piece of smart jewelry now retails in the price range of 1,000 yuan ($150) to 2,000 yuan.
But there is still a long way to go. For, although the overall jewelry market in China is estimated at 500 billion yuan, Chinese per-capita expenditure on jewelry is only 10 percent that of Americans'.
Compared with clothing, bags and cosmetics, jewelry in China lacks in branding power. Well-known brands account for only 25 percent share of the overall jewelry market.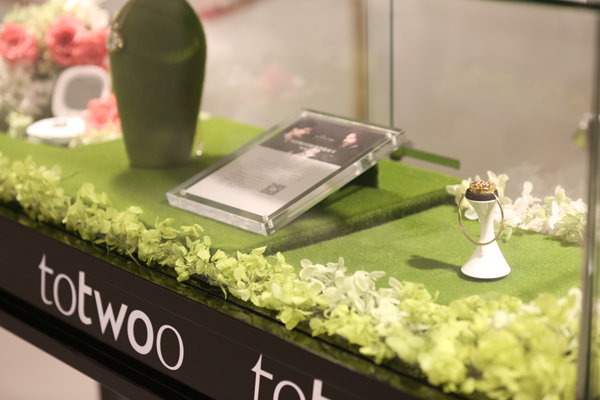 A bracelet with built-in pedometer, calorie-consumption meter, UV monitor and sedentary state detector. PROVIDED TO CHINA DAILY
Besides, the jewelry sector does not have a strong digital footprint. E-commerce platforms generate less than 10 percent of jewelry sales.
This provides significant growth space for newcomers, according to a survey by Luxe Co, a Chinese website on luxury products and associated lifestyles.
One such newcomer is, of course, Totwoo. Co-founded by Wang Jieming, a Chinese internet entrepreneur, and Italian designer Marco Dal Maso last year, it received nearly 10 million yuan from angel investors towards capital.
The company said it would soon launch more smart jewelry collections, with some for men. A few pieces will have upgraded functions, and will likely incorporate popular technologies like augmented reality (or AR, which uses computer simulation to overlay virtual objects and characters on top of real life environment).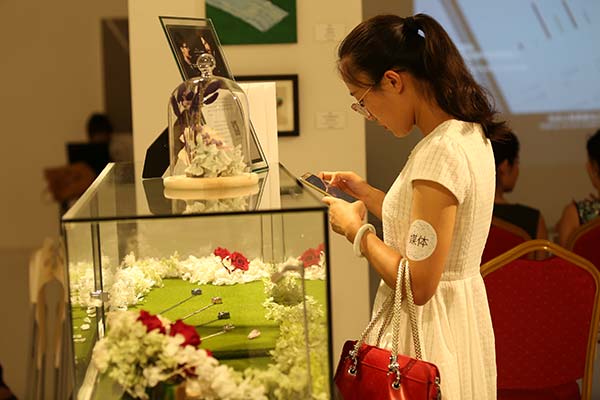 A reporter takes photos of smart jewelry at the launch of the Totwoo brand in late July in Beijing. PROVIDED TO CHINA DAILY
"It's difficult to combine jewelry and smart hardware. The two are totally different, but the challenge is to retain the features of each one. Products similar to Totwoo's are being planned in other countries, but most of them are at a conceptual stage. Totwoo is the first smart jewelry brand that has achieved mass production," said Wang.
Mass production does not necessarily mean hordes of buyers are making a beeline for smart jewelry. Some consumers said they still prefer traditional jewelry with various exquisite designs.
For instance, Du Ni, a 27-year-old office worker in Beijing, said: "I might not buy smart jewelry as I'm not that into doing sports. Those high-tech functions are unnecessary for me, and the designs available now are limited."
Mei Tao, deputy director of the China Wearable Computing Innovation and Strategic Alliance, said: "The smart wearables sector is one of the hottest business areas now. A combination of wearable technologies and jewelry would meet customers' needs. Companies should encourage buyers to accept smart jewelry as consumer goods first, and then strive towards viable business models."