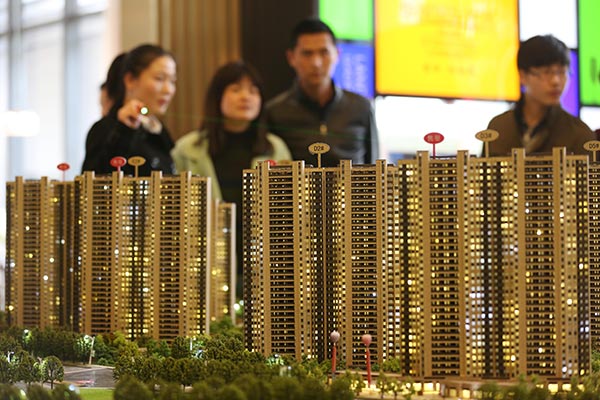 Potential homebuyers examine a property project model in Nanjing, East China's Jiangsu province, Feb 28, 2016. [Photo/VCG]
BEIJING - China's housing demand will remain relatively resilient up to 2030 while short-term market volatility will persist, global ratings agency Fitch said Monday.
China needs to build 800 million square meters of residential property space -- about the size of Singapore -- every year between 2016 and 2030 to meet demand, according to a report released by Fitch.
During this period, new housing supply is predicted to average around 750 million square meters per year, down 25 percent from the agency's previous estimates, while new home sales are seen to track similar levels.
Though the volume of new homes to be sold and completed in the country will fall, the magnitude of the decline is likely to be modest on an annualized basis, the report said.
China's housing market had cooled for more than a year before starting to recover in the second half of 2015, boosted by government support, which included interest rate cuts and lower deposit requirements.
The sector's recovery, however, has been uneven from city to city, with economically-strong areas reporting drastic price rises, and less developed areas still reporting huge inventories of unsold houses.