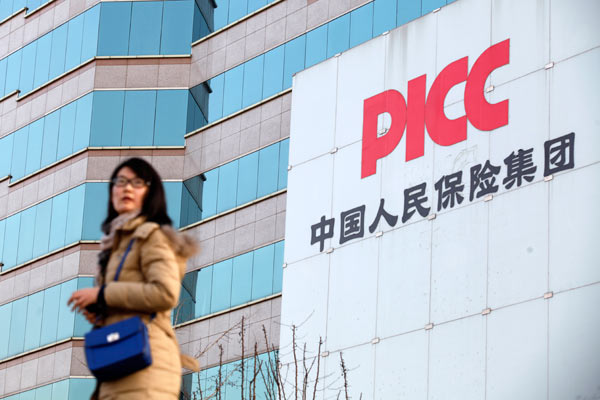 A woman walks by a building with a logo of China Pacific Insurance Holdings Co, Jan 17, 2013. [Photo/VCG]
The profits of China's three leading insurance companies all dropped sharply in the first half as a weak capital market dragged down investment returns.
China Life Insurance Co, China's largest insurer, released a statement on Sunday that its profit in the first half of the year may fall 65 percent to 70 percent from a year earlier. It attributed the forecast to lower investment income and changes in the assumed discount-rate required for reserves for traditional insurance contracts.
China Pacific Insurance Holdings Co also projected a first-half profit drop of 46 percent, according to its statement on Sunday, for the same reasons as China Life.
New China Life Insurance Co also said on July 23 that its first-half profit may fall about 50 percent, citing declining investment returns.
"The gloomy stock market is the main reason for the decline in profits and investment returns and the trend will continue in the second half," said Duan Haizhou, a deputy division chief of the information and statistics department at China Insurance Regulatory Commission.
Gao Jian, an insurance analyst at Northeast Securities, said that the capital market is not good so the profit decline of listed insurance companies was to be expected.
"Listed Chinese insurance companies are seeing steady business operations growth. For example, China Life keeps growing its premium revenue at a rate higher than 20 percent," said Gao.
The benchmark Shanghai Composite Index has slumped 16.6 percent this year, as of Monday, because the nation's economic growth slowed, hurting the value of insurance companies' stock investments.
China Life shares fell 0.96 percent to 20.74 yuan ($3.1) on Monday, while the China Pacific dropped 0.34 percent and New China Life declined 0.28 percent.
The China Insurance Regulatory Commission said on July 28 that total profits of Chinese insurers would drop by 54.1 percent year-on-year to 105.6 billion yuan in the first half. Total investment returns in the equities markets during the period was only 24.1 billion yuan, a huge drop of 261.2 billion yuan from the same period last year.
Wang Guojun, an insurance professor at the University of International Business and Economics, said Chinese insurance companies could try global asset allocation to improve investment returns and lower risks.
China Life is a leader in the market because it pays attention to overseas and private equity investments. In June, it invested more than $600 million in Didi Chuxing, China's largest mobile car hailing service. China Life also announced in May that it took a sizable but undisclosed stake in a landmark New York office block, in a deal worth $1.65 billion.