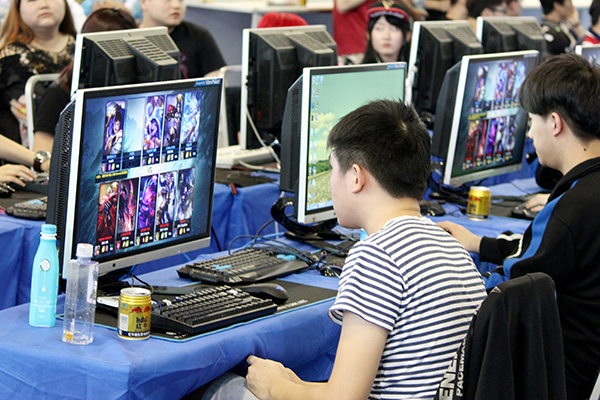 Players compete in an online gaming contest in Nanjing, Jiangsu province. Perfect World Co Ltd is one of China's leading online game developers and operators. [Photo/China Daily]
China's digital games market recorded sales of $22.2 billion in 2015, up 23 percent year-on-year
Chinese leading online game developer and operator Perfect World Co Ltd is set to integrate its online gaming and film operations, to build a comprehensive culture unit and cooperate with other enterprises to establish a pan-entertainment ecosystem.
"We will establish culture and entertainment industrial clusters. They will cover games, film and television, animation, comics, literature, media and education, and expand our products to game platforms, cinema, television stations, the internet, retail and other channels," said Xiao Hong, the firm's chief executive.
"We are now in an era of globalization, informatization and amalgamation, which brings about numerous opportunities for the culture industry," Xiao added.
The company has completed the reorganization of its gaming and film businesses.
Zhang Yunfan, president of Perfect World Games, said the firm will accelerate innovation in games content, technology, culture and operations to establish a core competence in the intellectual property field and interact with other players in the pan-entertainment industrial chain.
China's digital gaming market has grown robustly in the past few years.
According to Newzoo, a global gaming research firm, China's digital games market has notched up sales of $22.2 billion in 2015, up 23 percent year-on-year, and surpassed the United States where sales touched $22 billion.
China has become the second-largest film market, with box office sales reaching 44 billion yuan ($6.59 billion) in 2015, up 48.7 percent from 2014, according to statistics from the State Administration of Press, Publication, Radio, Film and Television.
The Beijing-based online game operator was listed on the Nasdaq in 2007. However, it delisted from the US stock market after finishing privatization last year.
Perfect World Pictures Co Ltd, a movie and TV drama producer listed at the Shenzhen Stock Exchange, said in January that it had acquired a 100 percent stake in Perfect World for 12 billion yuan.
Perfect World Pictures announced on Monday it changed its name to Perfect World, which means Perfect World has formally returned to the A-share market through a reverse merger or better known as a backdoor listing.