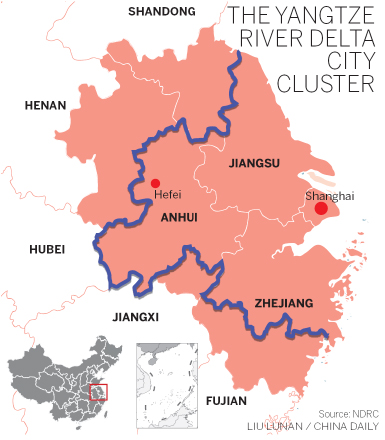 Shanghai is planning to upgrade itself comprehensively so as to be competitive globally and on par with New York and London, according to its blueprint for development till 2040.
Shanghai will position itself as a "pioneer" of urban economic powerhouses by developing the Yangtze River Delta as a world-class cluster of cities, according to its development schedule published in June by the National Development and Reform Commission, the country's top economic planner.
The new cluster comprises 26 cities, including Shanghai, and parts of Jiangsu, Zhejiang and Anhui provinces.
The proposed cluster of cities is expected to wield "global influence" by 2030, according to the schedule. Eight cities in Anhui are new members of the cluster.
"The cluster will work together to push forward the integration of the region where capital, talent, technology and innovation can flow freely," said Shanghai Mayor Yang Xiong recently.
To realize this goal, Shanghai will first strengthen coordinated development with its neighboring cities in the fields of economy, infrastructure, environment protection, public services and marketing system.
The three provinces and Shanghai form a region that enjoys the fastest economic growth in the country. With only 16.7 percent of the national population and 3.7 percent of the country's land, the region contributed 21.19 percent of China's GDP, according to the 2016 Shanghai Blue Book released by the Shanghai Academy of Social Sciences.
The GDP per capita in the area surpassed $10,000 in 2014.
Zhou Bo, deputy mayor of Shanghai, said in a group interview in late June that without the cities in the Yangtze River Delta, it would have been impossible for the city to attain its current status as the country's pre-eminent commercial center. Now, Shanghai needs to pay back and provide services to the whole area, he said.
Zhou pointed out that Shanghai is already home to country headquarters of several foreign companies and has attracted huge investments. Through Shanghai, these investments can be channeled to the Yangtze River Delta cluster of cities. "This is a very important function that Shanghai can perform."
Wang Shuwang, deputy general manager of Jee Automation Equipment Co Ltd, a private company based in Hefei, Anhui province, agreed. "Different cities have different functions. Shanghai, for a long time, has been the window on China's internationalization. Many of our clients such as Shanghai Auto Volkswagen are all headquartered in Shanghai."