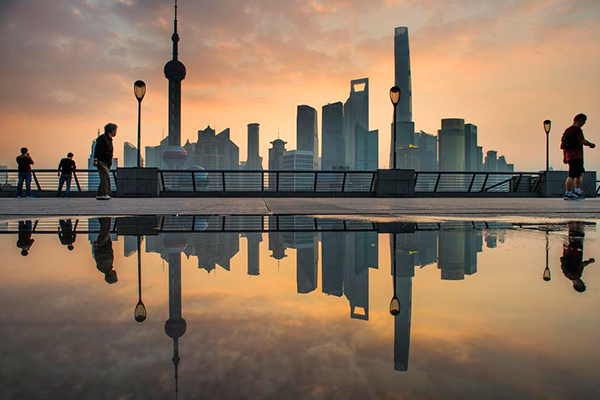 Skyscrapers and people reflected in a puddle of water in the early hours of the morning at the Bund in Shanghai, Oct 20, 2015.[Photo/Xinhua]
Shanghai's limited land supply for residential development and the current undersupply of housing stock have fuelled developers' expectations on further rise in housing prices. This has pushed up the prices of land auctioned recently, said Albert Lau, CEO of Savills China.
High land prices in Shanghai are a natural result of the market's development cycle. Developers who have been selling their existing properties need to supplement their land reserves for future development.
Additionally, they have secured enough liquidity from current sales so they are able to afford the high prices, said Lau in an interview with China Daily.
A Shanghai land parcel, which is just 1.5 kilometers from the central ring of the city, has been sold at a price of more than 73,786 yuan ($11,040) per square meter of proposed construction during a land auction, setting a record high. Shanghai-listed Future Land Co Ltd bought the parcel on Thursday for 3.7 billion yuan with a plan to develop residences.
Earlier this month Gree Real Estate Co Ltd bought a land parcel in Shanghai's west suburban Songjiang for 1.965 billion yuan, or 37,674 yuan per square meter, a 109 percent premium over the starting price. Poly Real Estate Group Co Ltd bought a parcel of land in east suburban Shanghai for 5.45 billion yuan, with an average price of 43,607 yuan per square meter-a 300 percent premium over the starting price.
All these parcels were bought at an average price more than 50 percent higher than already developed properties on sale in the same region, so the estimated price for completed apartments on the purchased land is almost double the current sales price for existing properties.
"Competition for residential supply is quite fierce, which can be reflected in the high premium rate. Every auction attracts more than twenty bidders which means that developers are keen to compete for land. If they do not win in a bid, they may be willing to pay more for the next one," said Lau.
Residential housing prices in Shanghai have surged more than 20 percent in the first quarter of 2016 and authorities have been taking measures to curb speculation. In the second quarter, the average housing price growth in Shanghai was recorded at somewhere between 1 percent and 2 percent, a healthy and stable level, according to market analysts.
Lau said the essential measure for residential market stability and sustainable growth is to provide choices to various segments, from government-sponsored affordable housing for lower-income families to high-end luxury houses for wealthy ones.
More supplies of affordable housing will help meet the demand of average residents, narrowing the gap between supply and demand.
Authorities have also been encouraging developers and real estate owners to transform idle projects into residential projects in order to meet increasing demands for housing in some key cities with fast growing population and high housing prices. More incentives, instead of just encouragement, will be needed because transforming existing buildings into apartments or houses may cost a lot, said Lau.