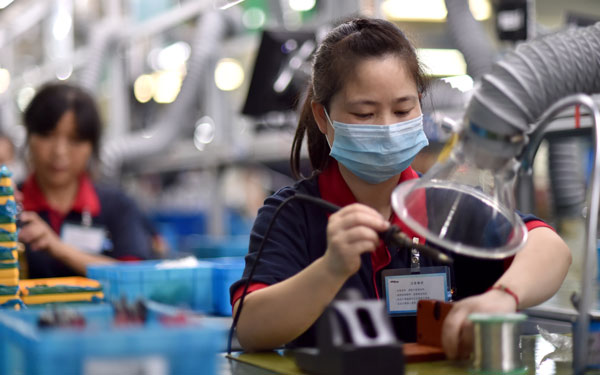 Workers assemble lithium batteries in Huzhou, Zhejiang province. The electric-car industry gives a boost to the battery manufacturing sector. [Photo/China Daily]
Companies see supply-side changes playing bigger role
Both international and local companies said on Friday they were expecting China's supply-side structural reform to play a bigger role in stimulating the country's foreign trade in the second half of the year.
The supply-side structural reform aims at cutting low-end industrial capacity while increasing high-tech production.
Richard Loi, president of UPS China: "Chinese businesses therefore must innovate and come up with products that satisfy the needs of today's consumers."
Eager to enhance its earnings ability, Loi said UPS will continue to expand its China-to-Europe rail service this year as the growing trade between China and the European Union was expected to reach $1 trillion by 2020.
Feng Jianfeng, president of OSell, a Chongqing-based cross-border e-commerce platform, said that even though trade data showed that foreign orders for China's manufacturing sector shrank in the first half, the continuing supply-side reform could offer more practical measures to stabilize the economy in the second half.
The company plans to set up 50 interactive overseas stores in two years to build a communication and trade barrier-free passageway between 50 international trading centers and 50 Chinese industrial cities.
China's economy grew 6.7 percent in the second quarter from the same period a year earlier. The National Bureau of Statistics said on Friday that although the economy still faced downward pressure, the first-half performance laid a good foundation for achieving the government's full-year growth target of 6.5 percent to 7 percent.
Nomura Group, meanwhile, said it had revised up its forecast for China's GDP growth this year to 6.5 percent from 6 percent previously.
Zhang Shuquan, president of Shenzhen BAK Battery Co Ltd, said the economy will achieve stabilized growth levels in the second half of the year as more technology-driven businesses emerge.
"We are optimistic about the future development of the Chinese economy, which will feature more technology- and innovation-driven businesses," Zhang said.
BAK, a leading new-energy company whose core business includes lithium batteries and electric vehicles, said its sales would dramatically increase to about 5 billion yuan ($748 million) this year, said Zhang.
The Shenzhen-based company said it had teamed up with several big domestic and overseas vehicle manufacturers to provide new-energy power solutions.
"The new-energy power industry is booming in China as public willingness about buying efficient electric vehicles has increased significantly in recent years," Zhang said.
Jing Shuiyu in Beijing contributed to this story.