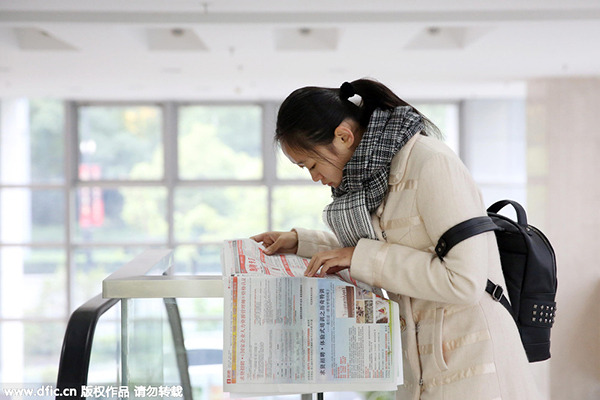 A graduate browses job information during a job fair in Hangzhou, Zhejiang province, Nov 25, 2015. [Photo/IC]
China will adopt measures to solve employment issues, said Yin Weimin, minister of Human Resources and Social Security, at a press conference Wednesday on the G20 Labour and Employment Ministerial Meeting.
During China's 13th Five-Year period (2016-20), about 15 million young people, most of whom are college graduates, are looking for a job in cities every year, Yin says. The pressure lies in both recruitment and employment.
According to Yin, the government will take measures, such as increasing employment opportunities, adopting precise support policies and providing more effective public employment services. Encouraging self-employment and enhancing job training are also included.
The minister said China had canceled 319 employment qualifications, accounting for 52 percent of the total number the State Council had set up. By the end of this year, 70 percent will be canceled.
Yin said there were too many employment qualifications which were too detailed and messy. "Clear and specify employment qualification system is an important part of streamlining government and delegating authorities," Yin said.
In response to the policy on delaying retirement, Yin said the ministry would carry out a progressive plan on that matter.
The minister said the plan would be based on three principles - taking small steps to secure a progressive implementation; targeting different groups with different measures and announcing in advance to make room for advices and revise.