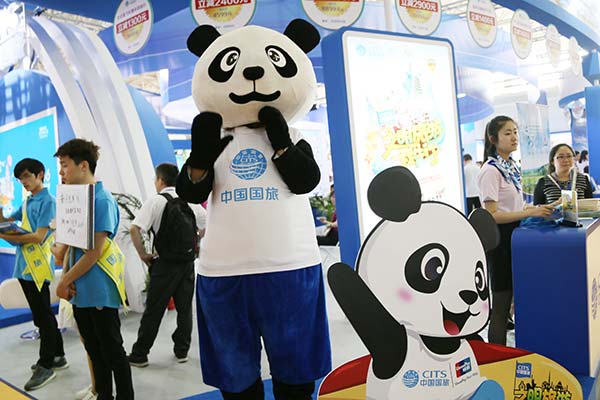 CITS Group Corp employees dress as pandas at the travel agency's stand at the Beijing International Tourism Expo in 2016.[Photo/VCG]
Share prices rise on the announcement
The merger of two major State-owned travel companies will create China's largest tourism group. The new merged company is expected to better strengthen resources and services.
The State Council has approved the combination of CITS Group Corp and China National Travel Service (HK) Group Corp.
Experts said the merger will help the industry better integrate upstream and downstream companies, and further improve the functions of the tourism industry. The combination of similar assets and resources will help enterprises to enhance their competitive advantages.
CITS will become a fully owned subsidiary of CTS. The State-owned Assets Supervision and Administration Commission will be the controlling shareholder of CTS and will no longer supervise CITS, according to the statement by CITS.
Share prices of Hong Kong-listed CTS surged 7.42 percent on Tuesday, and closed at HK$2.46 (32 cents). Besides, shares of CTS jumped 3.73 percent on Feb 24, in the wake of announcement a day earlier that the two groups were planning the restructuring.
Dai Bin, head of the China Tourism Academy, said earlier that the tourism market in China is expected to form a pattern, with one State-owned tourism group and three major local private tourism groups.
In fact, the market has expected the integration of the two State-owned tourism groups. Since last year, CTS started to strip off its steel and iron business and gradually focused on the tourism industry.
Founded in 1928, CTS has been one of the four major State-owned enterprises based in Hong Kong. By the end of last year, the group achieved sales revenues of 33.5 billion yuan ($5 billion), and profits of 2.37 billion yuan.
The assets of the new conglomerate will exceed 120 billion yuan.
Meanwhile, founded in 2004, CITS has been the largest Chinese travel agency with the strongest business operations covering travel services, sales of duty free products, transportation, and e-commerce.
The latest move is part of the ongoing trend of mergers between major State-owned companies across various industries, as the government aims to combine the core resources of State-owned enterprises and reduce their management costs.