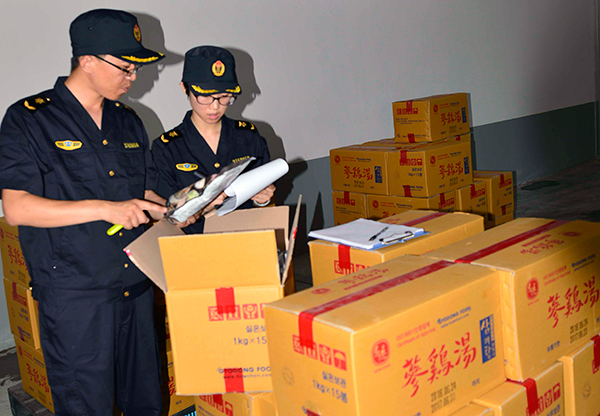 Customs officers inspect imported Korean ginseng chicken soup in Rongcheng, Shandong province, July 1, 2016. [Ju Chuanjiang/China Daily]
Chinese customs began inspecting 1,200 packs of ginseng chicken soup from South Korea on Friday in Rongcheng, Shandong province, marking the beginning of trade of the traditional Korean cuisine in the Chinese market.
The first batch of products arrived at Shidao Port in Shandong on Thursday, and more will be delivered to ports in Shanghai and Shandong in following days.
"Both China and South Korea made great efforts to implement the first trade of ginseng chicken soup. We overcame a series of technical difficulties and it is an important movement toward improving the bilateral food trade and security," said Liu Jian, deputy director of division one at the Import and Export Food Safety Bureau under the General Administration of Quality Supervision, Inspection and Quarantine.
Five South Korean producers have been registered at the administration and several Chinese companies in Shanghai, Weihai, Qingdao and Guangzhou obtained a trading license on the specific product.
"Weihai is the closest Chinese city to South Korea, and the Korean favorite food landing in China from Weihai is a meaningful thing. I believe more Chinese people will enjoy the ginseng chicken soup," said Lee Yun-dong, food and drug counselor from the South Korean embassy to China.
The traditional soup is an important part of the Korean culture. However, due to issues like the presence of bird flu in South Korea and difficulties in determining the nature of ingredients, the soup could not enter the Chinese market for a long time.
In October, during Premier Li Keqiang's visit to Seoul, Li promised to create mechanisms for South Korea to export its traditional dishes of kimchi and ginseng chicken soup to China.
Korean cuisine is popular among Chinese people, and more than 30,000 Korean restaurants have registered in China. The imported ginseng chicken soup will be distributed to Korean restaurants, Korean food shops and supermarkets.
Yu Jianyang, chairman of Taixiang Food, which is the Chinese importer of the first chicken soup deal, said he sees a great market potential for the Korean soup and is confident that Taixiang will become the biggest importer of ginseng chicken soup in China.