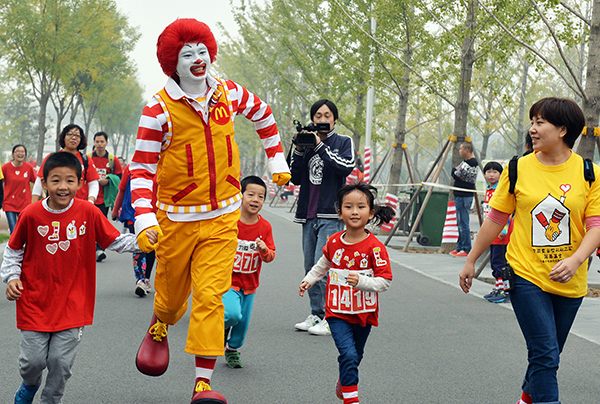 Children take part in a running contest organized by McDonald's Corp in Beijing. [Photo provided to China Daily]
McDonald's Corp has received more than half a dozen bids for its planned sale of Chinese mainland and Hong Kong stores, including offers from Beijing Tourism Group, Sanpower Group and China National Chemical Corporation in a deal worth about $3 billion, people familiar with the matter said.
McDonald's is offering a 20-year master franchise agreement to buyers as part of the deal, but has placed restrictions that have discouraged some private equity firms from participating in the process, the people added.
Still, some global buyout firms including Bain Capital, TPG Capital and Carlyle Group have entered the auction with a view to team up with some of the Chinese strategic bidders, they added.
Other bidders who were preparing to place first-round bids ahead of Monday's deadline include Beijing Capital Agribusiness Group and GreenTree Hospitality, the people said. It was not immediately clear if the last two suitors proceeded with the bids.
Oak Brook, Illinois-based McDonald's has hired Morgan Stanley to run the sale of about 2,800 restaurants in the Chinese mainland, Hong Kong and South Korea. The sale in South Korea is being run separately and it was not known if the same parties have expressed interest in the South Korean sale, the people added.
The mainland and Hong Kong business had about $200 million in earnings before interest, depreciation and amortization, and could be sold for about 15-16 times its core earnings, taking the deal value to about $3 billion, one of the people said.
ChemChina and Sanpower officials were not available to comment immediately, while Beijing Tourism Group said it did not know about the matter.